New Embroidery Features That Will Take Your Designs to the Next Level
By Caroline Clarke on July 22nd, 2021 · Reading Time: 5 minutes

We're so excited to announce new embroidery features that will take your embroidered designs and print on demand business to the next level.
New features include six colour designs, premium thread colours, and the ability to print neck labels in embroidered t-shirts.
We know that variety is extremely important for you guys - so after putting a lot of time and research into perfecting these latest updates, we're excited about what they could mean for your brand! Now more than ever before, it's possible to make any product stand out from the crowd by adding custom logos or designs using high-quality embroidery and direct to garment printing.
In this blog post, we'll discuss our new embroidery features, why they are beneficial and describe how you can use them for your brand.
Six Colours Per Design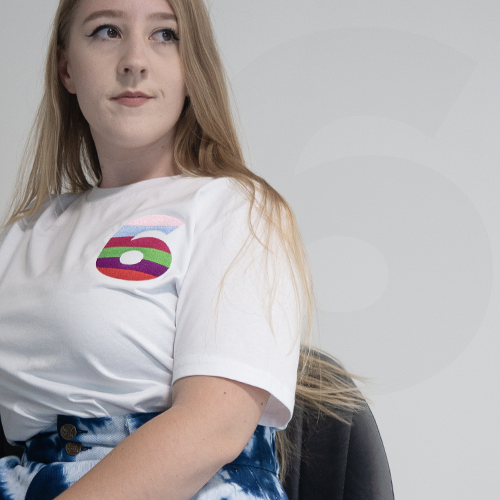 Embroidery is a traditional way of decorating clothing that has seen a noticeable increase in popularity as of late. Still, ever since we first launched embroidery in 2013, your designs have been limited by choosing four thread colours per design.
We heard your feedback about needing more colours, and you may have noticed that our thread colour selection window has been updated to support up to six colours per design!
With six embroidery thread colours to play with, you're now able to create even more detailed designs with our embroidered products.
To use six thread colours, select all of the colours on the product page as below. Or, if you want to continue using fewer colours, leave the remaining boxes at "None".
When designing for embroidery, it's essential to think about how the embroidery machine will stitch your design together, making sure to leave spaces in between shapes and keep your lines thick enough for neat stitches.
Embroidery can only be so detailed, so please refer to our embroidery design guidelines if you're not sure if your design is suitable. If you're still unsure, please feel free to reach out to our support team, and we'll be happy to check this for you.
16 New Premium Colours

With our upgraded embroidery, not only can you select six colours for your designs, but there are also 16 more colours to choose from!
This gives you a total of 32 thread colour options; from neon green to aubergine, we've got the perfect shade for any design.
Have you ever browsed for a specific colour and couldn't find it? If so, then our categorised colours should be very helpful! You'll notice that all the Blue thread colours are in "Marine", pale shades are in "Pastel", and most obviously, the neon shades are in "Neon."
Those special premium threads do cost an additional £0.99, but it's not much at all when it comes down to the look of the final product. With a bit of extra investment, your clothes can be the envy of every other brand. Upgrade to premium threads to make your design stand out from the crowd.
Want to get a little fancy with your designs? Why not experiment with new thread colours without having to go through the whole digitising process. You don't need to re-digitise the design if you want thread variations - go ahead and swap out those thread colours without any problems!
Printed Neck Labels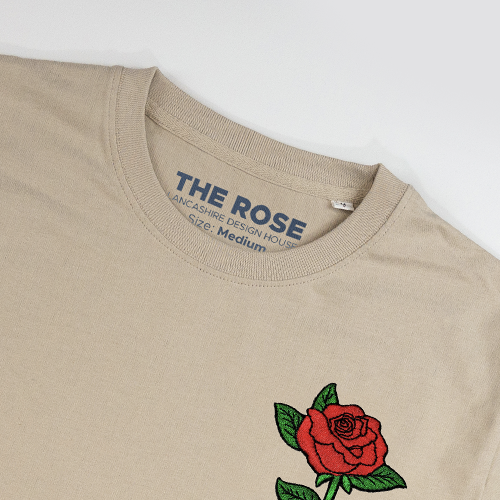 We've also introduced neck labels for embroidered t-shirts, allowing you to brand your t-shirts no matter which decoration method suits the design best.
This brand-new feature is the perfect way to set your t-shirts apart from others on the market; now, every one of our t-shirts can be printed with a neck label, even if they have embroidered designs.
Previously, we were limited with mixing our embroidery and print departments. But with our new facility, it's no longer a problem!
Want your customer to remember where they got their awesome t-shirt years down the line? Printing your brand logo on the shirt's neck label will make them sure to remember you.
No more limitations; upload your printed labels to all embroidered t-shirts right away.
It is so easy to get started! All you have to do is upload your label design to your brand profile, choose the label drop-down on a product, and we'll take care of the rest.
Easy Positioning for Embroidered Clothing
We offer three different embroidery positions: left-chest, centre and right-chest. Every design is different, so you must consider the position of your designs on each product.
When embroidering your logo, it's best to place it on the left chest or the centre of your shirt for a fashionable look.
Left-chest embroidery: The left-hand side of the chest area when worn.
Centre embroidery: The centre of the t-shirt or hoodie when worn.
Right-chest embroidery: The right-hand side of the chest area when worn.
FAQs
I've already had my design digitised - can I change it?
Yes - you can change the colours used in your design, but you cannot change the number of colours.
For example, we could make a design using 4 colours and change them around each time but never add a 5th colour. The only way to do that is to digitise it again.
How do I change the colours in my design?
To change the thread colours in your design (and take advantage of our premium embroidery threads), all you need to do is amend your product's thread colour selection. Remember to click "Save" if you edit a linked product or "Update Product" if you edit a saved design.
How do I update my design to include 6 colours instead of 4?
Suppose you have existing digitised embroidery designs with fewer colours than you would like. In that case, we recommend placing a new order to create these items since it's not possible to add more colours to an existing design.
How do I change the position of my embroidery?
You can change the position of your design at any time!
Head to your product, and amend the drop-down field "Position:" to either Left-chest, Centre or Right-chest. Then, click "Save" if you're updating a linked product or "Update Product" if you're editing a saved design.
Summary
So, what do you think about our new embroidery features? Ready to let your creativity flow?
Not only can you now design, order your custom apparel and sell it on the Shopify platform, but you can also upload your designs to all embroidery t-shirts.
We know that the variety of embroidered items we make will increase dramatically, and we can't wait to see what you come up with!
What are some designs that you're going to create first? Get started on your products now, and feel free to contact us if you need any assistance.