Q&A: How to Increase Sales with Multichannel Selling
It doesn't matter if you're storing inventory or using a print on demand drop shipping service, one thing is universal: you need to sell your products. You can juggle the pros and cons about running an ecommerce store or selling through a marketplace like Amazon or Ebay all day, but why not both? Why not take advantage of every single channel you can to maximise product exposure?
We've asked Richard Protheroe from veeqo.com about why you should be taking advantage of multichannel selling - and his answers might just show you how simple it can be.
Most of our customers sell through an eCommerce store, but what Marketplaces are the best for retailers to be selling on?
Firstly there's Amazon, which is absolutely essential for retailers. The big reason for this is that 19% of all US millennials (people born between 1980-2000) have an Amazon Prime account. There are 80 million millennials in the US and their buying power is over $200 billion every single year.
Amazon also has more consumer searches than Google and 44% of all web shoppers go there directly.
Another must is eBay, there is a preconception that this is mainly for part time sellers, but the statistics suggest otherwise. Sellers on eBay make a much better profit margin than those on Amazon. 10% of all eBay sellers make a profit of 50% or more, whereas this figure is just 5.6% for Amazon.
11 million searches are performed every hour on eBay. The introduction of eBay's mobile app has made shopping so much easier as well. This resulted in $20 billion worth of sales made through mobile in 2015.
Another that most people, especially outside of the US won't be aware of is Wanelo. Mobile shopping is huge now and 85% of all purchases on Wanelo are done through their app. There are currently 350k stores on the platform, selling over 20 million products. An added bonus is that if you are a Shopify user you can instantly list all your products to Wanelo and still manage them from your Shopify dashboard.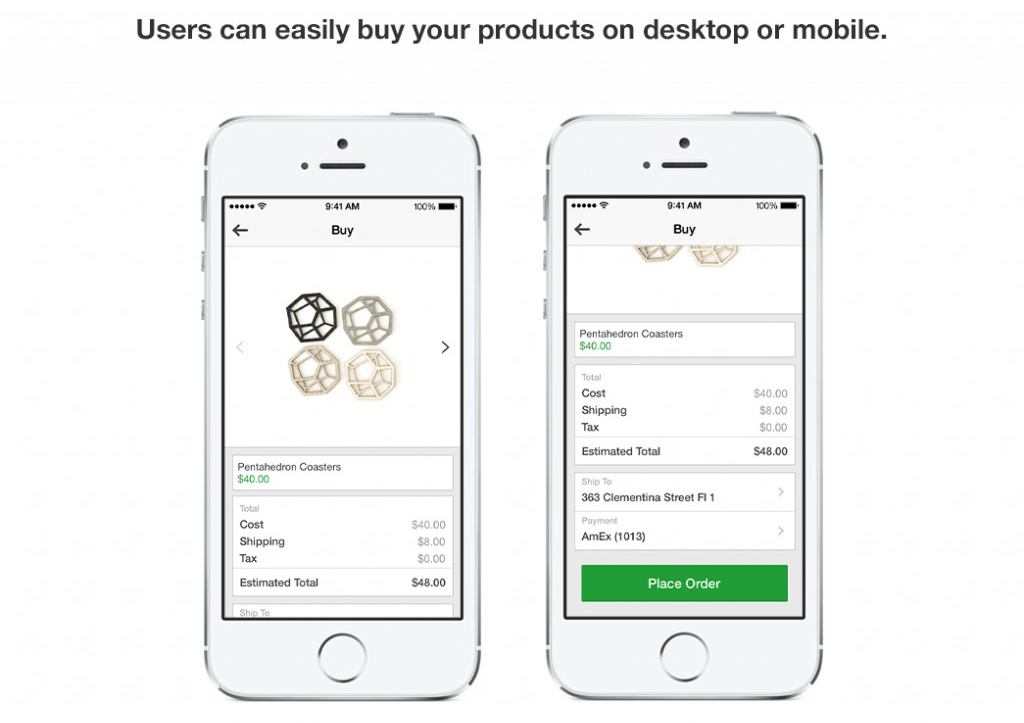 So marketplaces are essential, but what are the benefits of retailers having their own webstore too?
Setting up your own site used to be a very complicated process, but companies like Shopify and WooCommerce are making it incredibly easy for sellers to get up and running.
They handle all the hosting, security, and credit card processing to give store owners more time to focus on promoting their website.
The biggest benefit however has to be the fact that you can build your own brand, you can convert buyers into fans and therefore the possibilities are endless.
There are regulations in place with third parties that prevent you from marketing. Plus you can also be in direct competition with Amazon themselves if they sell something similar, and you are unlikely to win that battle!
There are no fees other than a monthly subscription and profit margins will be totally dictated by you, which means they are normally higher. Around 60% of all Amazon sellers are looking to open their own webstore this year. With Shopify offering packages as low as $14 a month it's an absolute no brainer for retailers.
If the facts are so compelling, why do you think people are reluctant to start their own webstore and use multiple sales channels?
People have this feeling that if their products are spread out over a few channels it's much harder to manage and maintain. This is only the case if you don't know what inventory management software is.
In fact 46% of small to medium businesses either track their inventory manually, or don't do it at all. The effects of this are quite catastrophic.
Companies worldwide lose $634 billion a year from items that aren't in stock and $472 billion from overstocking items. Combined, this leaves us with an astonishing figure of $1.1 trillion.
A good inventory management system allows retailers to manage their inventory, accounts, purchase orders, suppliers, shipping and sales reports across all of their sales channels, in one centralised place. The biggest plus point of this is that retailers can then spend more time promoting their business, rather than spending time on the admin tasks.
Ecommerce is beomming more and more popular, but in 2015 there seemed to be a resurgence in bricks & mortar stores too. Why do you think that is?
That's correct! You only have to look at Amazon who opened a bookstore in Seattle. They realised that people still yearn for that shopping experience, such as staff recommendations and the thinking process that goes behind a purchase. In fact, ebook sales fell dramatically in 2015 in favour of physical books.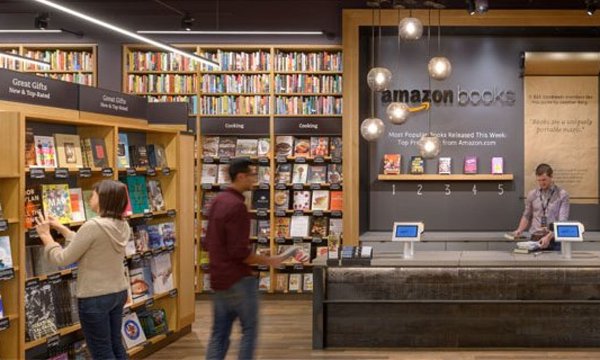 In the last few years, around 20 online companies in the US have launched a bricks & mortar store to forge closer customer relations, and to boost online traffic and sales. These include mostly specialty and clothing stores such as Warby Parker, Bonobos, Birchbox and Casper.
With around 1.2 billion websites it can be very hard to launch a brand these days that's exclusively online.
What's also becoming extremely popular is the emergence of pop-up stores, in particular travelling ones. It's allowing retailers to gain exposure to new customers without capital-intensive expansion. They also don't have to agree to a long lease agreement if things don't turn out as planned.
Additionally they provide an opportunity for customer data gathering and audience interaction that is impossible to replicate online.
So if retailers now have 4-5 marketplaces, a webstore and a pop-up shop, how can they manage across all these channels?
It's vital that retailers have inventory management software to manage their business. There are 5 clear benefits for this…
Avoid Over/­Underselling - You may sell the last of a product on one channel and then receive another order on your website before you're able to update your stock. Since that item is now out of stock, you have to disappoint your customer by informing them that the product is no longer available. Alternatively, you might not have it in stock to sell, which leads on to…

Preset Reorder Levels - Most (good) inventory systems come with a preset reorder value that automatically sends off a purchase order to your supplier. Stock is a company's greatest asset, so forecasting and planning for your popular items is vital to increasing sales.

Save Time and Money - A mentioned before, updating inventory is now one less administrative task for you to do. So you can now use your time to promote and expand your business.

Avoid Human Error - Human error can occur when trying to send out orders quickly. eBay and Amazon in particular need orders to be sent out promptly. Inventory management software collects information in one centralized place, administrators can easily manage the stock in multiple locations as well as any drop shipping or fulfillment partners.

Access Anywhere - Veeqo have released the first ever inventory management app. This can help you make sales whilst on the go or at a tradeshow. All your other channels will then update automatically.
In a study by WebRetailer on what software Amazon sellers planned to use in 2016. Inventory management was the most popular choice.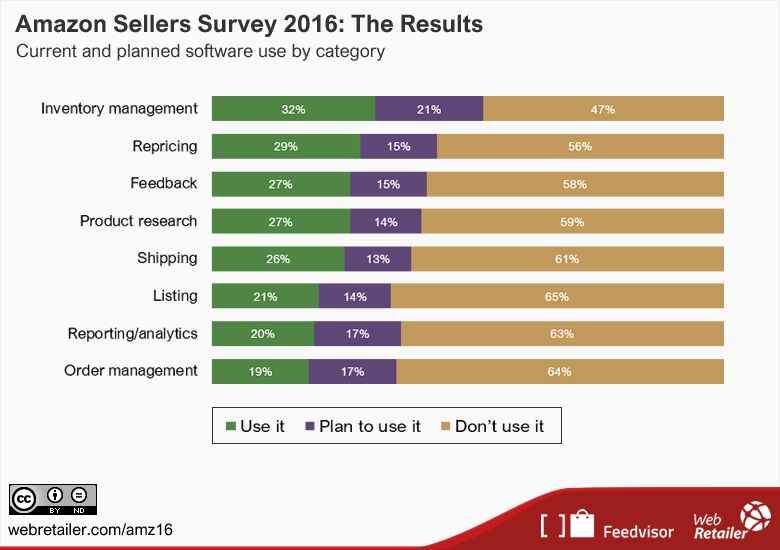 Want to learn more about multichannel selling? Find out how 86% of sellers making $1 million or more in sales are using it to their advantage. We have this totally free ebook for you to download.
Richard Protheroe is a Marketing Executive at Veeqo.com. They provide inventory management software for retailers selling on multiple platforms.