Vegan products to make your store stand out this month

It's Veganuary, so we're here to share some of our top vegan products and provide more information about why veganism and eco-friendly values are important in ecommerce.
We'll cover why you should sell vegan products, why we at Inkthreadable are focused on offering ethical & sustainable products for print on demand, and 4 products that will help your store stand out to vegan and eco-friendly shoppers this month.
Why should you sell vegan products?
This year, over 500,000 people in the UK have pledged to go vegan for January. This means more people than ever are shopping for cruelty-free clothing and accessories, with even more people becoming interested in a vegan lifestyle every year.
By selecting suitable products, you can tap into a wider audience and market your store to an increased customer variety. Sharing the right information about your products will make all the difference in appealing to vegan and sustainable shoppers. We've made this easy by curating a list of our top vegan products, and providing the information that people will be searching for!
It makes sense to label your product as suitable for vegans, even if you wouldn't look out for this yourself. There will be groups of consumers actively seeking this information, so you could miss out if you don't stock suitable products. It would help if you placed a note in your product description to discreetly inform those seeking ethical labels, without distracting those who aren't.
That being said, you can't just apply the vegan label to anything to make it sell. Bear in mind that you should use this to increase your consumer base, and avoid excluding people from purchasing your products.
Print-on-demand sustainable fashion with Inkthreadable
Fast fashion has left a bad impression of the industry, which is why we want to help grow small businesses that truly care about their impact on the planet. Providing sustainable fashion hasn't always been easy, but many manufacturers have made an effort to go green in recent years. In 2021, we now have several suppliers offering eco-friendly clothing and accessories which we love to decorate!
With Inkthreadable, you'll find it easy to supply planet-friendly options. Our commitment to sustainability goes right through our company: from the plastic-free packaging we use, to the products we stock in our catalogue (check out our ethical policy for a statement from each manufacturer). The inks and threads that we use to decorate your products are also vegan-friendly, so you can be certain that vegan or ethical shoppers are safe to spend on your store.
We recently made a whole collection of our top vegan products, but have handpicked the best to share with you here. You may notice that we've selected quite a few Stanley/Stella products in this collection, and this is no mistake! In 2018, PETA certified Stanley/Stella as being 100% vegan. This means that all of their apparel is made from vegan-friendly materials, for people and the planet.
We've done the research, but which products will you choose?
---
If you're not already using the Creator, then we suggest you give it a try! This is our most popular 100% organic cotton t-shirt, and is made from responsibly sourced materials.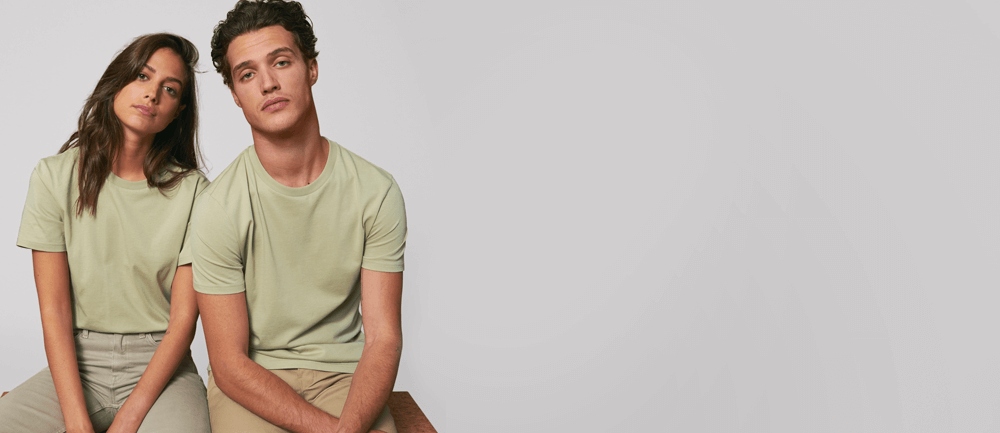 Your customers will love this t-shirt for its high-quality feel and detailed direct-to-garment prints. Alongside being eco-friendly, the unisex fit means this t-shirt has no gender, plus it offers inclusive sizes with some colours being available up to a size 5XL. We currently have over 50 colour options available, and new colours are released every season.
The Creator is also available for embroidery, with even more colour options. Some colours aren't suitable for direct-to-garment printing, like the earthy Stem Green shade pictured above. We don't want you to miss out, so embroidering these colours could provide some unique fashion pieces!
Start designing now.
---
Switching to a reusable water bottle is one of the easiest ways to reduce everyday plastic use, meaning less impact on the planet and animals around us. Why not help more people take a step towards a plastic-free life, and design your own water bottle?
Our custom reusable water bottle is a sleek, elegant stainless steel bottle suitable for up to 500ml of hot and cold liquids. Double-walled construction allows this bottle to keep cold drinks nice and chilly, or hot drinks steaming hot!
The sublimation inks we use to decorate the bottles are also certified vegan-friendly and toxic-free. No animals byproducts are used to create the inks, and they're not tested on animals.
Start designing now.
---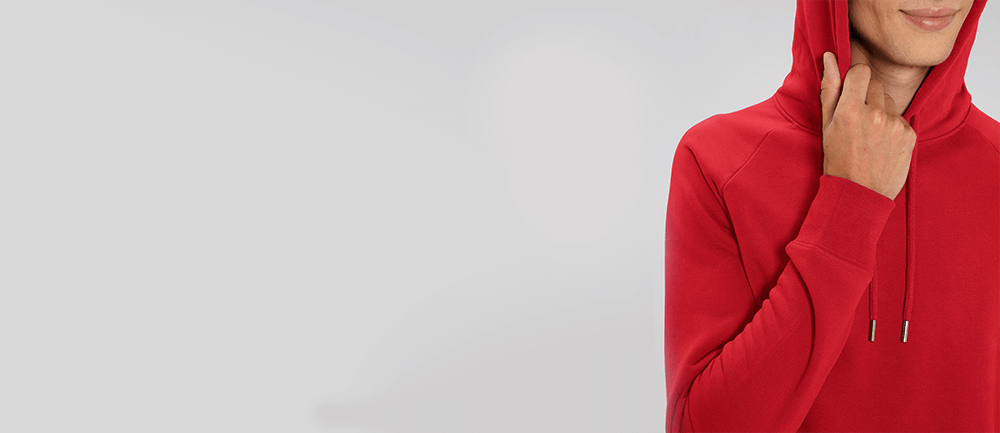 The Flyer is a 350gsm hoodie made from 85% organic combed cotton and 15% recycled polyester. This is our go-to on these cold winter mornings and will surely be a hit with your customers. The double-layered hood and ribbed sleeves make this hoodie super cosy when you need it most, but the terry cotton material means it's also breathable in warmer months.
Printed with DTG inks on both the front and back, this hoodie is a great premium offering that's worth paying the extra money for. Also available for embroidery if that's more your thing!
Start designing now.
---
The word vegan has become synonymous with eco-friendly products, and what better way to promote your brand, than with a stand-out design on an ethical shopping bag. Everyone uses reusable shopping bags these days, so why not try creating your own?

Constructed from 80% recycled cotton and 20% polyester material, this tote bag is made to last. The 300gsm material has great strength, and the long handles make it easy to grab and go!
Available in 4 neutral colours for both DTG and embroidery, this woven shopping bag is sure to be a hit with your vegan customers.
Start designing now.
---
Summary
In the past few years, shoppers have become more conscious of how their goods are made, which has resulted in amazing growth for vegan and sustainable brands. People will always want to buy creative t-shirts or funny accessories, but are becoming wiser about how their choices might impact the world around them. It's worth displaying vegan products in your store to ensure you don't miss out on a wider audience.
Veganism is also a unique selling point, and will give your brand the edge! This is still a growing trend to follow, so adding vegan products to your store now can help you stand out early. By choosing planet-friendly, ethical products with Inkthreadable, your store can be a great place for eco-conscious shoppers to find their new fashion and accessories.
Explore the vegan collection.
Caroline Clarke

Head of Customer Support