Celebrating 10 Years of Inkthreadable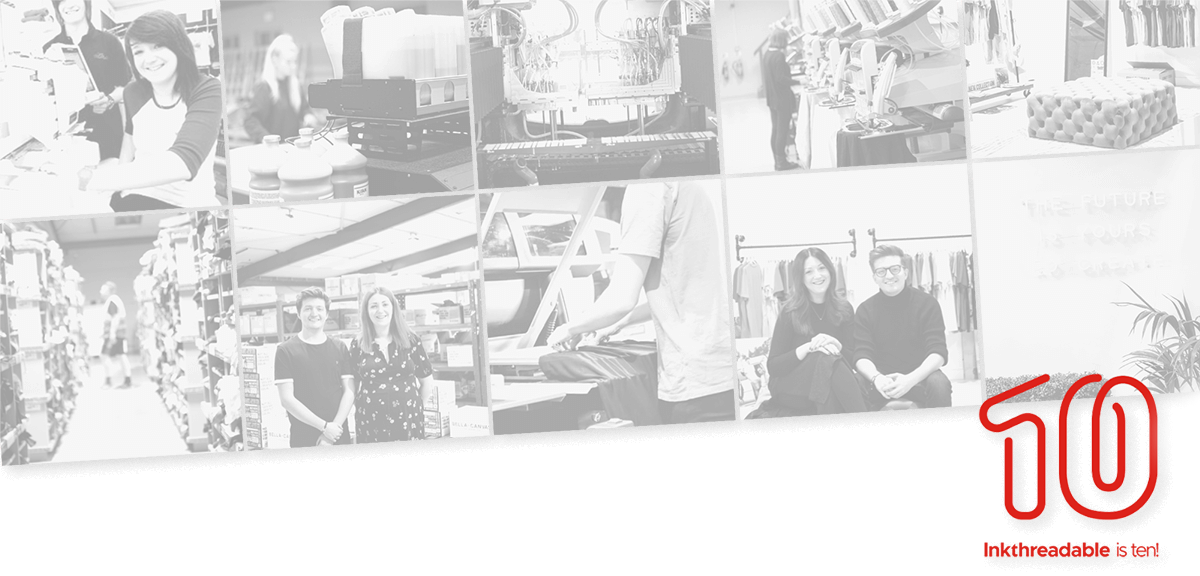 As we celebrate 10 years of Inkthreadable, it's time to look back at the incredible journey that has led us to where we are today.
Inkthreadable came to life in the back of a factory in January 2013. Actually, our co-founders Alex and Amy had been printing their own t-shirts for some time before then, but this is when the service we know and love today as Inkthreadable officially began.
What started as a dream shared by two teenagers has grown into one of the UK's leading print-on-demand services, helping businesses all over the world to create and develop their brands through customised apparel, accessories and homeware.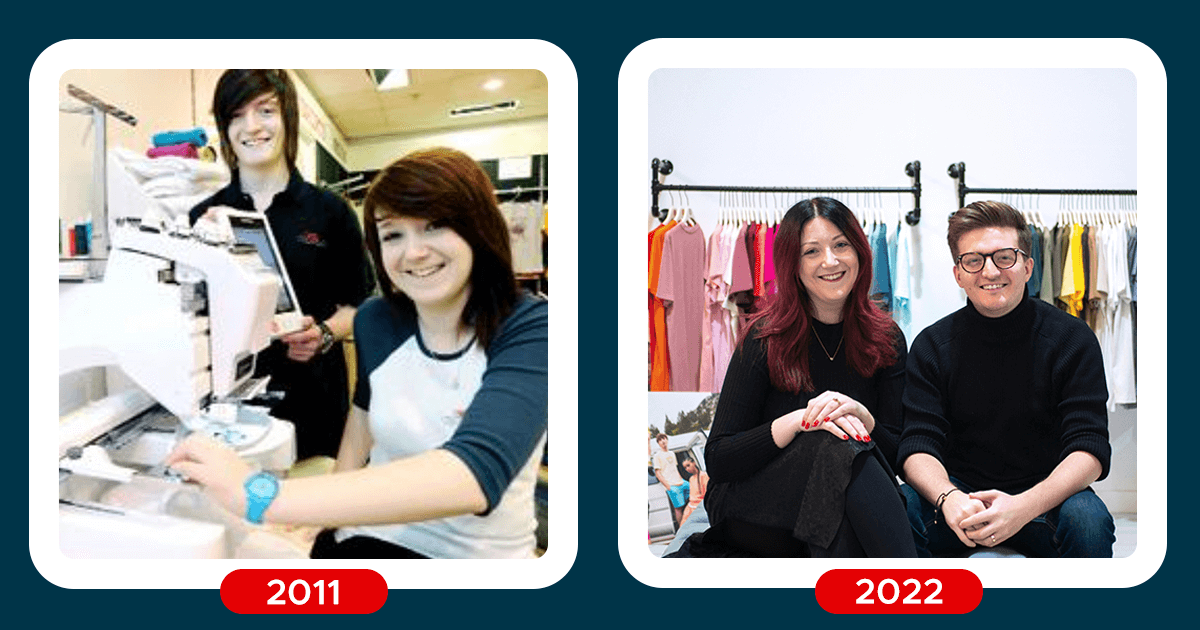 Drawn up around the dinner table
The name "Inkthreadable" came after a 3-hour brainstorm around the dinner table (if you've ever been an aspiring entrepreneur, I'm sure you can relate!).
With a tiny printing shop, the frequent smell of freshly printed ink and a passion for entrep­re­ne­urship, our co-founders Alex and Amy registered their business and left college to pursue Inkthreadable full-time without any guarantee of success.
From a Dream to Reality ☁️
Inkthreadable started printing and embroidering a small catalogue of products for local businesses alongside selling designs in a local shopping centre.
Within one year we had our first real major print on demand client and had to scale the business fast to keep up with demand. This involved developing the first integration with Shopify to allow automated order fulfilment, released in 2015.
After much hard work, in 2016 we managed to acquire our first premises with offices included (although small and needing a lot of TLC), along with twelve TexJet Direct To Garment printers. They were amazing at the time, but only one-tenth the size of the printers we use now!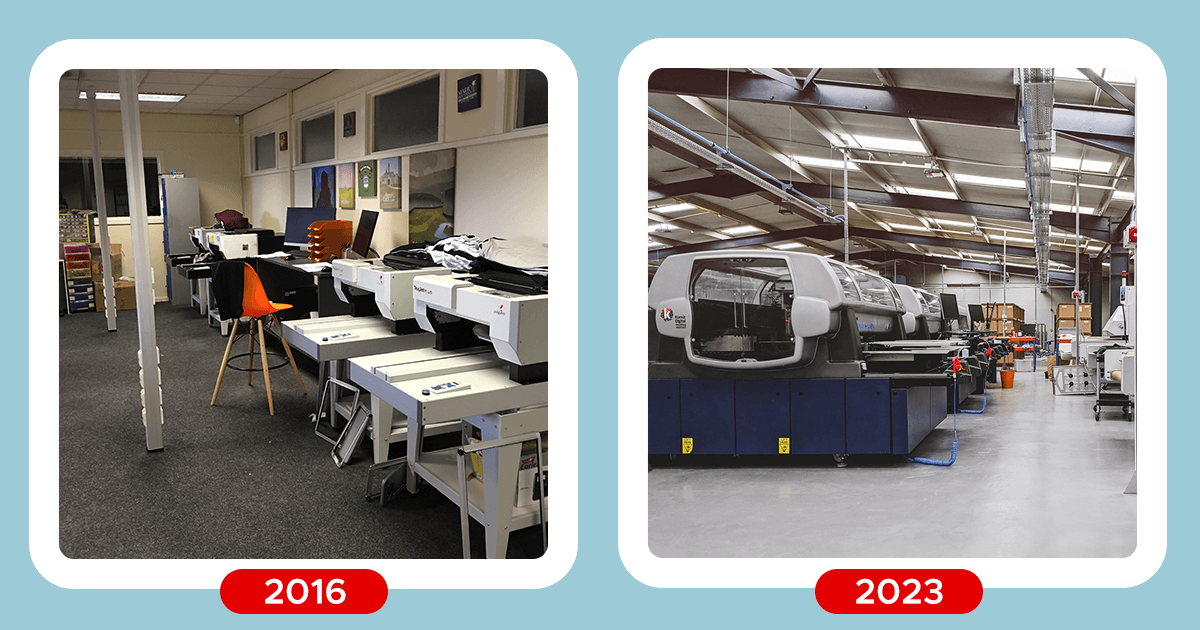 Then along came Kornit, which changed everything for us...
When we invested in Kornit DTG printers in 2017, our business changed rapidly. Our first install was of the Storm Hexa in August 2017, quickly followed by the Kornit Avalanche HD6 in March of 2018. We were the first company in Europe to install this model!
The quality and efficiency of the Kornit printers was unrivalled, which meant that we quickly decommissioned our fleet of twelve TexJet printers. The decision to switch all of our DTG printing to Kornit printers resulted in substantial expansion for us - allowing us to offer far more products and more efficient service than ever before.
Fun Fact: Did you know that our printers at Inkthreadable have pet names? They're an integral part of our team and we absolutely value them as if they were people. 🥹
---
Inkthreadable x Sustainability 🌱
As we have grown over the years, so has our commitment to sustainability.
🌳 In 2017, we implemented a paperless order management system which saves the equivalent of 192 trees worth of paper each year.
📦 In 2018, we began working on a solution to remove plastic from our packaging. By April 2019, we had our own paper mail bags manufactured and all clothing products were shipped in plastic-free packaging!
🌍 As of August 2019, we began offsetting our Carbon Footprint by funding the planting of trees in the North West of England. We have since moved to offset our carbon footprint with Ecologi, who work on building renewable power plants alongside planting trees to reforest our planet.
👕 In 2021, we became an official Stanley/Stella dealer, providing Europe's leading sustainable fashion blanks to clothing brands around the world.
🫶 Humanity plays a key role in sustainable production. That's why we became a living wage employer in September 2022 and only work with suppliers who have values in-line with our own.
---
The Pandemic 🚨
When the pandemic hit in March 2020 we, like many other businesses, didn't know what the future would hold.
But due to the unfortunate closure of high street retail and the online sales boom, we quickly became busier than ever. Growing during a pandemic was challenging!
We installed 2 x additional Kornits (taking us to four) and then moved unit in July of 2020 to our current home.
This saw us triple our unit size and also triple our team! As a result, we're now able to provide quicker turnaround times, more products and even better customer service.
Fast forward to today, we're continuing strong in our factory that we're proud to call home, and recently installed a fifth DTG printer, the Kornit Atlas!
💡 Did you know: Our DTG printers use a waterless printing system with toxin-free, vegan-friendly inks which are totally safe for the environment.
---
A Decade of Success - Thanks to Our Incredible Team and Customers! 🙏
It's been a wild ride but Inkthreadable is here to stay!
We can't thank our staff, clients and suppliers enough for their invaluable contribution to Inkthreadable's success over the past 10 years. Without each of you, this milestone would never have been possible.
To our team, thank you for your hard work, dedication and creativity in helping us bring this dream to life. Your commitment to delivering the best customer experience and product quality has enabled us to grow at the rate we have over the last decade.
To our customers, thank you for your unwavering support. Your enthusiasm and passion for Inkthreadable empower us to continue pushing the boundaries of what is possible with print on demand.
From the early days of printing in the back of a factory to scaling up to a 35,000 square foot warehouse - it's been an incredible journey that we wouldn't trade for anything.
Thank you all for being part of something special – here's to the next 10 years! 🎉🥂
Bring Your Ideas to Life with Print on Demand
If you're looking for a reliable and efficient print-on-demand service, look no further than Inkthreadable. From uplifting t-shirts to personalised pet socks, we've seen all sorts of stories come through our doors – and we want to help you create yours! Register today and start bringing your ideas to life.