Our Journey to Becoming Plastic-Free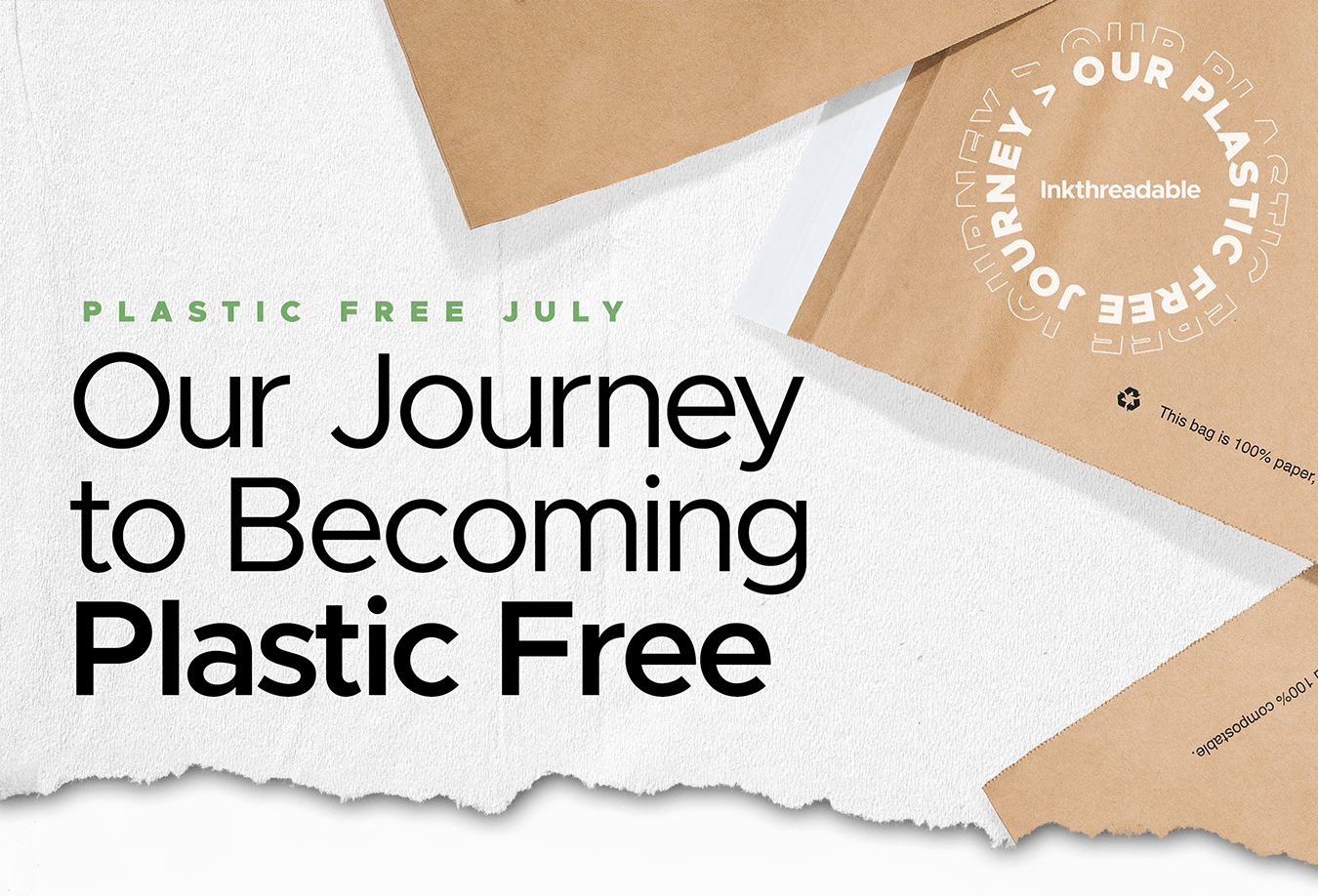 It's been three years since we decided to switch to plastic-free packaging. It was a journey that started with a simple goal, to reduce single-use plastics making their way into circulation through our business, but it turned into so much more.
We're excited to share our story with you, hoping it will inspire other businesses to switch to sustainable packaging too.
Where Did It All Start?

Our co-founder Amy Cunliffe is passionate about sustainability and knew there needed to be a way to bring sustainable choices into the business. One of her main business goals in 2019 was to lower our carbon footprint and make the company plastic-free (spoiler alert, we did it 🌱).
When we launched our business in 2013, we had to use the most readily available plastic packaging.
Then we saw many online retailers starting to ship their goods in recycled plastic, but we knew this wouldn't be enough for the level of sustainability we wanted to achieve.
We tested cardboard... But building boxes took a lot of production time and stopped us from focusing on our true purpose (you won't believe how long it takes to build a few thousand boxes every week).
After two years of research, we finally settled on using 100% paper packaging with FSC certifications. This meant that it would always be recyclable and compostable, and we'll never be responsible for tonnes of packaging ending up in a landfill!
---
From Plastic to Paper Packaging
We didn't switch to paper packaging overnight, though. We had to test each new version of packaging to make sure it was fit for its purpose, and we undoubtedly had concerns about whether paper could really replace plastic.
So to begin our journey, we had some bespoke paper mailing bags produced with a weatherproof coating. This eased any worries about the garments being damaged in our temperamental British weather, and the new packaging was the perfect size to fit through a letterbox.
We loved the new style and started using it in February 2019 for single t-shirts and hoodies, then had larger versions made for bigger orders. By April 2019, we had exhausted all of our previous plastic packaging and became completely plastic-free.
Since then, every apparel order we've shipped has been plastic-free, and we knew we needed to have the most sustainable packaging for every other product type to fully accomplish our goal.
The problem is, mugs and art prints are fragile and won't cope very well in a paper bag - no matter how weatherproof it is! This is when FSC cardboard came onto the scene...
---
Mug Packaging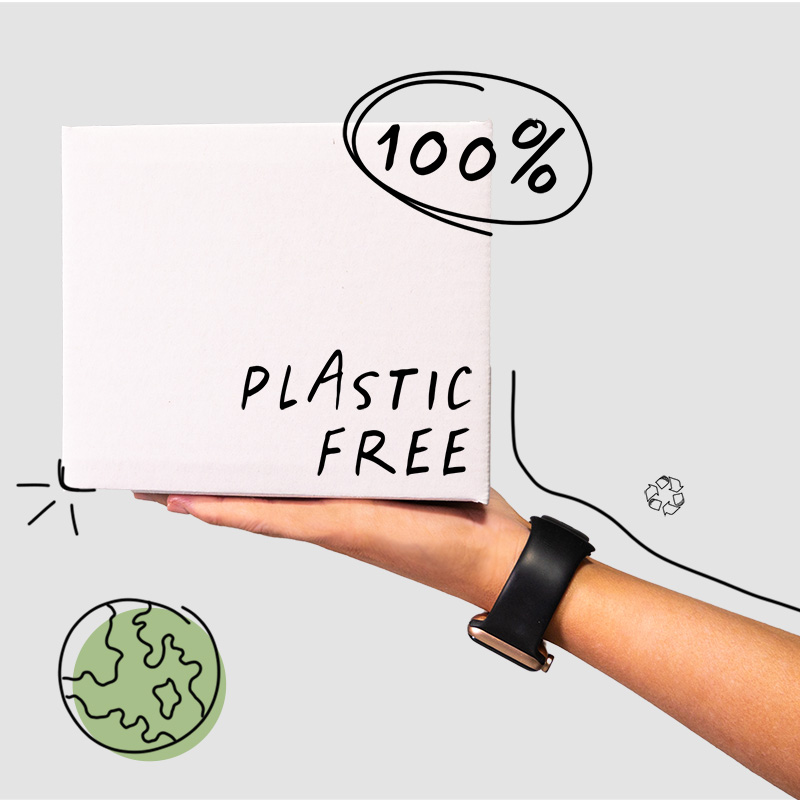 We already used cardboard boxes to ship our mugs, but they weren't the sturdiest, and having to replace orders isn't very sustainable for us either. So, we got back to work on finding a more eco-friendly solution.
In 2020, we started testing a new prototype of smashproof cardboard mug boxes. By throwing them at brick walls, jumping on them, and even hurling one off the back of a Royal Mail lorry for science.
We wanted to see how they held up to international courier routes, and we reached out to some international customers who were happy to receive a mug in the new packaging. The mugs went to Italy, Ghana, and Slovenia and survived our trials!
The new mug boxes were released immediately and have been used for every order since early 2020. We've had all sorts of variations to prevent damages across the mug range. For 15oz mugs, twin mugs up to six mugs, and even larger orders.
Art Print Packaging
No plastic end caps here! Since introducing art prints in 2019, all our matte and lustre art prints have been rolled and shipped in triangular cardboard tubes.
Bamboo art prints are too thick to roll, so we place them inside hard-backed envelopes instead.
Now that covers 99.9% of our catalogue, except for framed A4 art prints, which must be shipped with a pane of glass.
We tried every box under the sun, but none would protect the glass from the treacherous worldwide courier routes. Eventually, we had to settle with biodegradable bubble wrap to protect the glass and prevent any damage (broken glass is even less sustainable than plastic!).
Our framed art prints are now wrapped dutifully in green bubble wrap and placed inside a cardboard box for their journey.
---
We save 8 TONNES of plastic packaging from heading to landfills every year!
Since going plastic-free in 2019, we've saved almost 20 tonnes of plastic packaging from going to a landfill (for scale, that's the same weight as four African Elephants). The best part is that it never stops, and we continue to save plastic every year!
As your supplier, it's our responsibility to ensure we cover your needs, whether with sustainable product choices or vegan-friendly inks. But what's next for Inkthreadable? We aim to become a carbon-neutral company soon and have begun offsetting some of our carbon footprint with Ecologi, which you can track on our profile.
By working with us, you can offer eco-friendly values that many big fashion brands are still struggling to catch on with! We promise that your orders will always be shipped in the most sustainable way possible. With plastic-free packaging and eco-friendly product options, we're truly the best place to be if you're looking for the most sustainable print-on-demand partner.
Sign up today for a 50% discount on your first sample order up to £50.
Already using us? Take 10% off your sample order with code JULY10 until 31st July 2022.

Caroline Clarke | Head of Customer Experience