What Is Plastic-Free July and Why Should You Take Part?
It's the best time of the year... Yeah, it's summer - but also PLASTIC FREE JULY! That's right, a whole month where we can come together and ditch those polluting plastics. It's a chance to be more mindful of our plastic use and to find creative, sustainable alternatives.
Plastic Free July is a campaign started in 2011 by the Plastic Free Foundation. According to their 2021 impact report, 140 million people participated last year. Altogether they refused 301 million everyday plastic items and prevented 2.1 million TONNES of waste.
As a small business you should be aware of Plastic Free July because 29% of global consumers are already aware themselves and will be watching out for businesses taking part.
Watch this short video to learn more about the aims of this campaign:
How can you encourage your customers to take part?
Here are a few print-on-demand products that can help get your customers excited about Plastic Free July: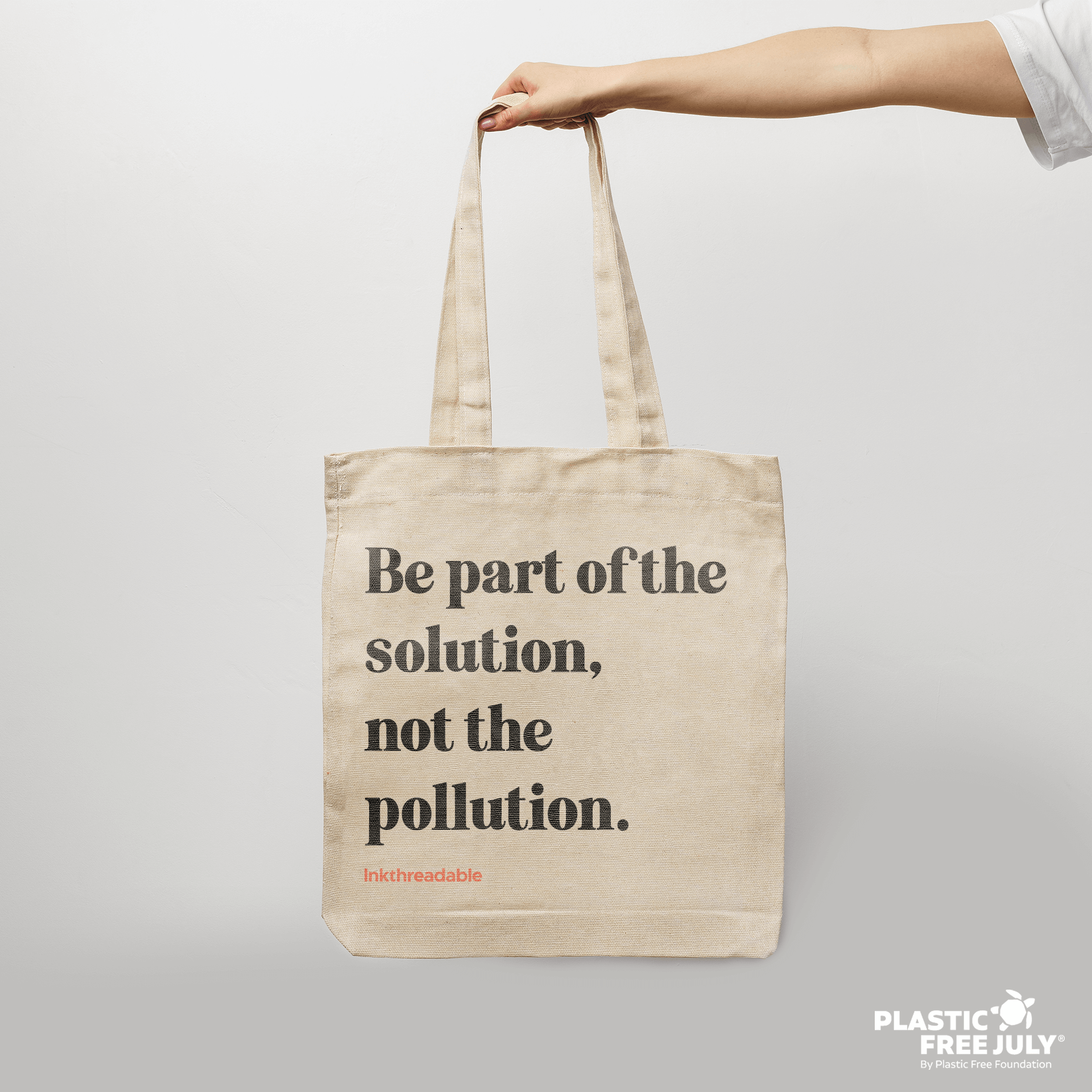 Reusable Shopping Bags
Ditch the plastic bags and opt for a reusable shopping bag!
We have a varied collection of tote bags and shopping bags that can be used as an alternative to plastic bags.
The Westford Mill Tote Bag is also one of our top trending products at the moment. Starting from only £6.50 including printing, it's a no-brainer way to help your customers ditch the plastic!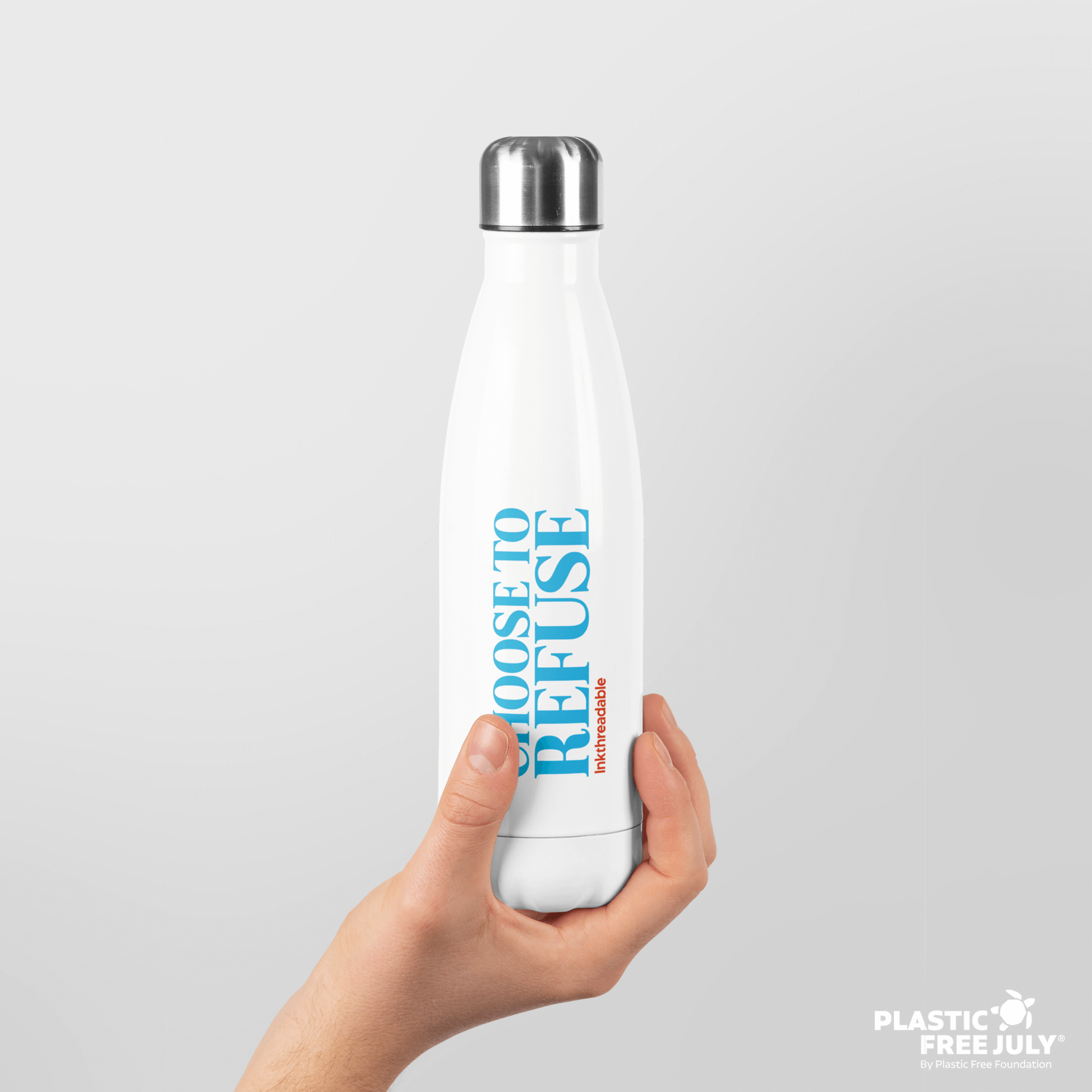 Aluminium Water Bottles
Say no to single-use plastic water bottles and make the switch to an aluminium reusable bottle.
Our 500ml water bottle is the perfect base for any design. Print your logo, a pet's face, or a favourite drawing and you've got a reusable water bottle that will last for as long as you look after it!
Not only that, but aluminium bottles are also proven to be better for your health. There are no chemicals like BPAs or sulphates in metal bottles, unlike regular plastic bottles.
Why not market your bottles as a healthier alternative for both the planet, and for your customers.
---
Don't worry if you only sell apparel, you don't need to miss out on Plastic Free July! If you ship your products with Inkthreadable, your packaging is made from 100% sustainably sourced paper and can be recycled or composted at home. This means that you can advertise your products as being shipped in 100% plastic free packaging for all those people taking part in Plastic Free July.
You can also encourage customers to take part by sharing tips and tricks on your social media channels or blog. This is a great chance to engage your audience as a small business.
Here are a few ideas to get you started:
Share recipes for plastic-free lunches or meal prep.

Show how to compost or recycle your packaging.

Give ideas for fun, plastic-free activities to do at home or outdoors.
No matter how you choose to encourage your customers to take part in Plastic Free July, remember that even small changes can make a big difference when there are 100+ million people involved!
Are you going to take the Plastic Free July challenge?
The goal is to choose one type of single-use plastic and avoid using it all month, or you can try and go completely plastic free. Depending on what you choose it can be tough, but it's definitely worth the challenge!
Plastic pollution is a huge problem, and it's something that we as consumers and small businesses can't solve on our own. But by taking the Plastic-Free July challenge, we can be a part of the solution.
We all have a role to play in lowering the amount of plastic waste that ends up in our landfills and seas, and we can all demonstrate to corporations that we will not continue to buy their single-use plastic products.
We're going to be talking more about sustainability this month, so stay tuned to hear our journey to becoming plastic-free.
Why not start sharing your own ideas about Plastic-Free July and start a discussion with your own community.
Want to pledge to take part? Sign up here: https://­www.­plastic­fre­ejuly.­org/
If you have any other ideas for reducing your plastic use this month, we'd love to hear from you! Share your stories with us on Instagram or Facebook and tag @­Inkthreadable.