Create Eye-Catching Merchandise with Our New Mugs!
By Caroline Clarke | 5 min read
Mug designers, take note! We've got some fantastic new products for you to print.
Printing on mugs is an excellent way to promote your company and get your message across in a unique and memorable way. But it's not always the most exciting product to sell and you might want to try and diversify your product range.
This is why we're excited to introduce two brand new mugs that are sure to wow your customers. We now have magic colour changing mugs plus full-bleed borderless mugs available for print on demand! Our mugs are printed with photorealistic quality that will make any design pop off of the mug. Order as few or as many as you need, and we'll ship them right to your customers.
---
Colour Changing Custom Printed Mugs 🪄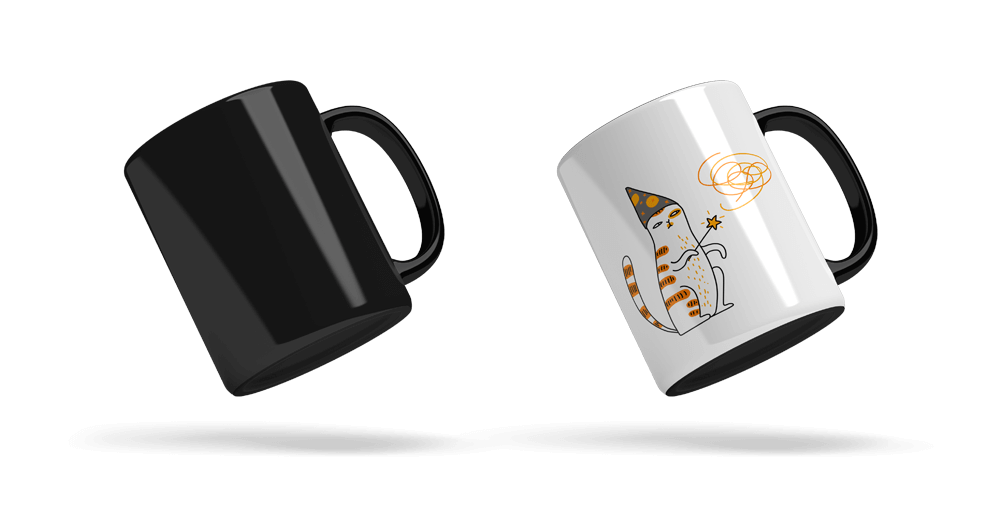 Drumroll please... 🥁 Meet our new magic heat-sensitive mugs!
Our new colour changing mugs are unique in that they change colour with just a touch of warmth. Watch as your design transitions from dark to light, revealing all the details on both sides of the mug.
With our colour changing mugs, your customers will know that you care about the little details. You don't want any old mug collecting dust on their shelf - no, these are magic mugs and can provide endless entertainment!
When tea, coffee or any hot liquid is poured into them, colours begin to emerge from all sides of the cup. The prints are as vibrant as ever when the cup is white but mysteriously fade to black as the heat dissipates.
These mugs are hand-wash only to protect their heat-sensitive charms.
Your customer will be amazed by this stunning mug, which lends the impression that magic is happening right in front of their eyes. Watch our TikTok and see the magic happen:

Order your completely unique colour-changing mugs today, and view a free mockup of your design with the click of a button!
---
Borderless Custom Mugs ✨
Looking for a great way to show off your designs no matter the temperature? We also have eye-catching borderless mugs now available for print on demand.
These full-bleed mugs showcase your design from edge to edge for a truly immersive experience.
Our borderless mugs are completely microwave and dishwasher safe and work perfectly as photo collage mugs.
Do you already have full-colour designs that might be improved by increasing the print size? Put them to the test on a new borderless mug!
Use our online editor to design your mugs with ease. As always, we've included a free, high-quality mockup creator on our website for you to see exactly what your mug will look like before ordering.
---
Ordering Samples 📦
All of our mugs use high-quality printing with dye-sublimation, where heat and pressure are applied to a transfer to cure ink within the material of the products. This print method achieves photo-realistic results.
You can print any of your previous designs on our new magic heat-sensitive mugs, or update your print file to the larger template for borderless printing.
Order your custom printed magic mugs today! If you'd like any help with ordering samples or you'd like some more information about these new products you can send a message on live chat or send us an email.
---
Personalised Mugs / Photo Mugs 📷
If you're looking for a way to print personalised gifts, our print on demand service is perfect for you. Our magic colour changing and borderless mugs are suited for any occasion, and with our wide range of products, you're sure to find the perfect gifts for your customers.
The mugs we use are high-quality and make for the perfect brew. Whether you're selling Mr & Mrs mugs for their special day or making easy Mother's Day gifts with just one photo, we've got everything you need to get started.
Our print on demand service is fast, easy, and affordable - and with no minimum order quantity, you can order as few or as many mugs as you need. Quick delivery across the globe makes it simple for you to sell online, anywhere in the world. We're UK based so domestic orders are even quicker!
We also integrate with the most popular e-commerce platforms like Etsy, Shopify and WooCommerce to automate your orders.
---
Final Thoughts 💭
We hope you enjoy these new products and that they help you create some amazing designs!
These new mugs are just the latest addition to our print on demand line-up that's sure to cover all of your merchandising needs. Be sure to check out our other print on demand products including custom t-shirts, water bottles, reusable travel mugs and more.
Need promotional products for your business? Check out our mug bundles or get in touch for a custom quote!
So what are you waiting for? Start printing new mugs today and watch your sales skyrocket!
Stay up to date on the latest product news by signing up for our newsletter.