Your Guide to New SS22 Colours
Stanley/­Stella's new SS22 collection is here, bringing not only new styles but new colours too! With a new range of organic colours available on your favourite styles, you can update your store catalogue easily.
The palette for Spring Summer '22 is a fusion of influences, inspired by summer's carefree nature and natural beauty.
Whether you're looking for a new colour of your favourite Cruiser hoodie, or you're on the hunt for the trendiest colours around, this season's collection has something for everyone.
---
Where to find the new colours...
The new colours are Butter, Atlantic Blue, Volcano Stone, Olive Oil, Linden Green and Heather Rainbow.
Let's take a closer look at each colour and which products they're available for.
Butter 🧈

Butter is a soft and warm pastel shade of yellow, perfect for adding a touch of summer sunshine to your collections.
With a relaxed and easy-going vibe, it's great for pairing with other pastel hues like Sky Blue and Cotton Pink. The lightness of the colour makes it ideal for summer when you want to feel bright and breezy.
Find Butter on these existing styles:
Creator, Changer, Cruiser, Mini Creator, Mini Changer, Mini Cruiser, Stella Chiller, Stella Expresser, Trainer Shorts
Plus new styles:
---
Atlantic Blue 🌊

The colour Atlantic Blue is inspired by the ocean and is super bright and e ye-catching. It's perfect for adding a pop of colour to any apparel collection, and we already know it's going to be a popular one this Summer! This colour pairs well with vintage-style prints, giving your designs a retro feel.
Find Atlantic Blue on these existing styles:
---
Volcano Stone 🌋
Volcano Stone is the ultimate colour for anyone who wants to add a touch of fire to their look. This muted orange is inspired by the natural beauty of volcanoes and will add a flair of adventure to any print or embroidery design.
Volcano Stone pairs well with other natural Stanley/Stella colours like Olive Oil or Desert Dust. If you're looking for something different to add to your new apparel collection, why not try Volcano Stone? This unique orange is sure to turn heads and make a statement.
Find Volcano Stone on these existing styles:
Creator, Changer, Cruiser, Mini Creator, Mini Changer, Mini Cruiser, Stella Chiller, Stella Expresser, Stella Spinner
Plus new styles:
Baby Creator, Baby Changer, Baby Cruiser, Globetrotter Wave Terry, Stella Cropster, Stella Minter
---
Olive Oil 🫒

Looking for a new earthy green this season? Check out Stanley/­Stella's new Olive Oil!
This organic and sustainable green is perfect for giving your style that eco-warrior look. It pairs well with dark colours like Black or Anthracite.
If you want to portray the forest adventurer spirit in your apparel, then look no further than Olive Oil!
Find Olive Oil on existing styles:
Plus new styles:
---
Linden Green 🍐
Linden Green is a soft yet vibrant shade, bringing more unique colours to your store for Spring 2022. This colour is inspired by the lightness of nature in Spring; the pale green leaves and fresh flowerbuds. Pair it with other pastel hues of your choice, or create a striking contrast with a vibrant pink like Orchid Flower.
Find Linden Green on these existing styles:
---
Heather Rainbow is another unique and delicate colour that's the epitome of Spring.
This light, airy pink and orange blend is perfect for anyone who wants to inspire a feeling of positivity.
Heather Rainbow pairs well with other soft colours like Cream Heather Grey or Lavender, and we'd love to see your feminine designs on this colour for a flawlessly gentle look.
If you're looking for a unique colour, you have got to try Heather Rainbow. The rainbow heather effect is even more impressive in person!
---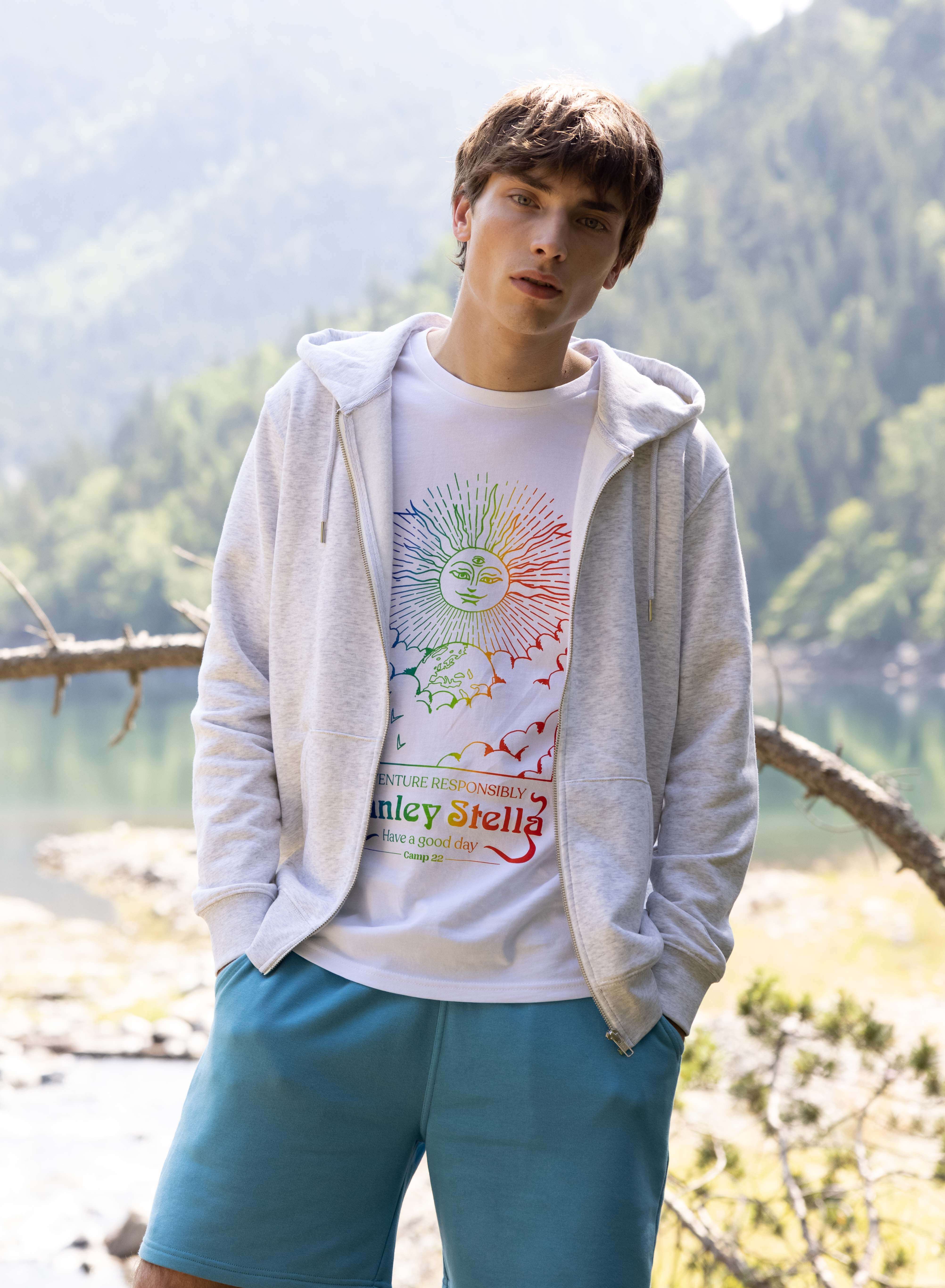 Sustainability ♻️
Stanley/Stella are always committed to sustainable materials and ethical production, and this collection is no different. Global Organic Textile Standard certifies the organic cotton used in the collection - a green seal of approval. We also print Stanley/Stella garments with water-based, toxin-free and vegan-friendly inks.
Stanley/Stella is proud to be part of the eco-fashion revolution, creating organic, sustainable garments one at a time. Read more about Stanley/­Stella's path to sustainability on their website.
3 Year Lifespan
To further their commitment to sustainability, Stanley/Stella has increased the lifetime of many new seasonal colours to 3 years minimum. This means that you can stock the colours Atlantic Blue, Butter & Heather Rainbow until at least the end of 2024 and they will not be discontinued anytime soon.
As always we cannot guarantee the stock availability of all colours and sizes, but rest assured that Stanley­/Stella garments generally have very good stock levels, and will increase their availability with demand.
---
Along with new colours, Stanley/Stella has also launched a whole new range of products for SS22. Head to our new styles blog post for the rundown on all new products.
Now that you know all about the new Stanley/Stella colours for SS22, it's time to start designing!
Why not go hiking for inspiration... 🏞️