3 Powerful Sales Promotions to Boost Your Store This Black Friday
By Caroline Clarke - 6 min read - New merchants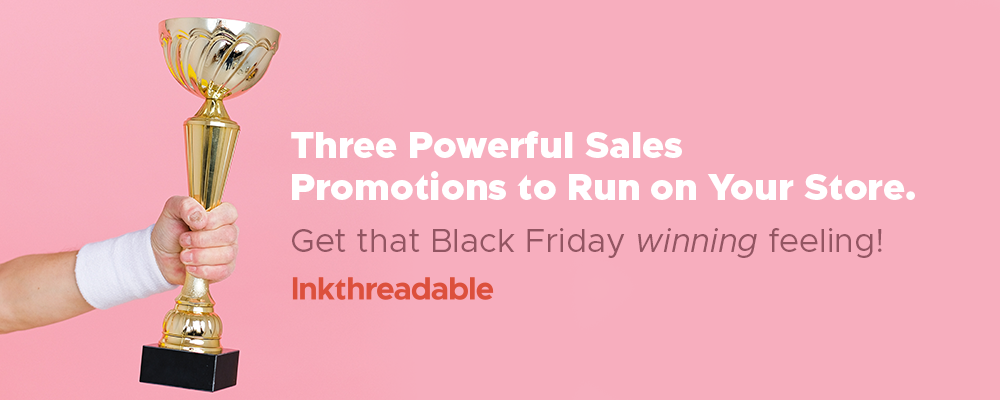 Want to tap into the Black Friday e-commerce frenzy? As an e-commerce store owner, Black Friday can be a great opportunity to engage with your customers by offering them some attractive discounts.
To help you maximise sales this season, we're sharing three sales promotion ideas to use in your store over the Black Friday Cyber Monday weekend. Each idea comes with its own pros and cons, plus instructions on how to set it up for your store! Read on to decide which one suits your needs best.
---
Table of contents:-
---
A sales promotion is any type of offer that lowers the price of an item or service. It might be a discount for signing up for a newsletter, or free shipping if you spend over a certain amount.
Offering discounts over Black Friday weekend is a particularly great way to attract new customers, convert existing fans, and increase the traffic on your website. It also allows you to demonstrate that you care about your customers by giving them incentives for shopping with you!
Black Friday weekend is a peak period for internet purchasing, but these are typically impulsive purchases, so you may find brand new customers checking out on their first visit rather than visiting three or four times. If someone sees an enticing discount on Black Friday, they're even more likely to make an impulse buy!
Because of this, Black Friday sales are much greater than other times throughout the year. If you want to learn more about how to use our print on demand service for your Black Friday sales, please see the Inkthreadable Guide to Black Friday blog post.
It might sound coun­te­rin­tu­itive to offer discounts in order to maximise profits, but surveys have shown that 94% of people search for a discount when shopping online and 62% of those wouldn't checkout without one! With consumers getting smarter about how they spend their money, you need to get savvier with your persuasive efforts.
So, which sales promotions should you use to persuade your shoppers?
---

One idea is to offer a sitewide discount for Black Friday only, such as, "15% off all orders until midnight!".
This discount is a great way to capture impulse purchases and new customers by giving them more for their money: plus if you offer a discount on the customer's first purchase, they will be encouraged to come back for more!
Another powerful tool is to offer an enticing deal that changes over time, such as "20% off all orders from 7 pm - 9 pm!". The advantage of this type of promotion is that it gives your customers a sense of urgency for the sale and encourages them to check out quickly. It's also a useful way of testing discounts and gives you the opportunity to change the percentage or time frame depending on how it's going.
Pros
Discounts are a great way to get the attention of your customers.

A good deal encourages people to purchase more than one item to make the most of the discount.

May increase the conversion rate of potential customers to actual customers.
Cons
Discounts can lead to less profitable sales for you because you're lowering prices when you could be charging regular prices (however, do remember that the idea here is that the number of sales you take will make up for it).

The discount might not be able to be combined with any other offers or deals, like gift vouchers.
---
There are two ways to provide discounts depending on your requirements; automated or code required. If you don't offer existing discount codes or gift vouchers, then the automated discount is the better option.
When using a code, make it something fun and easy to remember: BFMADNESS, IWANT15OFF. You'll see what I mean!
Ready to set up some discounts? Below, I've linked to guides for each method on every platform that we integrate with:
---
Another idea is to offer free shipping to customers spending over a certain amount.
Some of you may already do this, in which case I propose offering free delivery on all purchases over Black Friday, but if you don't currently have any free shipping choices, it's a wonderful time to give this offer to your customers.
Pros
Free shipping over X amount persuades people to purchase more than 1 item.

It also encourages customers to keep looking around on your site to build their order value, so it increases the average order value of each customer.
Cons
The downside of this promotion is that you'll need to cover the shipping costs, but if you can include this in your margins then you will still make a whopping profit.

In some cases, you must remember to switch your shipping back to normal shipping prices after the promotion has ended.
---
How to offer free shipping on Shopify, Etsy, WooCommerce BigCartel and Squarespace
There are two ways to provide free shipping; change shipping zones or use a discount code. If you're not promoting other discount codes over Black Friday, then the discount code is the easiest method.
Look over the tutorials below and save them for your promo day!
---

Our third and final concept is to create a deal that offers your customer a free gift when purchasing certain products.
Successful promotions like this often use the format "Buy X, Get X Free!". This works particularly well with t-shirt and mug bundles since you can offer a mug completely free, but it's only a low-cost item for you!
In order for this promotion to be successful, you'll want to make sure that the product is in high demand, so why not try offering this on your most popular designs? Make sure you don't change your real product prices because this may create more work down the line. Instead, follow the tutorials below to set up a promotion that will offer a fixed amount discount when specific items are added to the basket.
Pros:
Bundles allow customers to purchase multiple items at a reduced price.

Bundles are an excellent way to promote cross-selling or upselling.

It's motivating for the customer because they get a free gift, even if they wouldn't usually purchase that item.
Cons:
It can be hard to determine a price for a bundle deal that will work well for everyone.

It can be difficult to offer a quality gift without spending a lot of money.

This promotion is not available on all e-commerce platforms.
---
Most e-commerce platforms make it very easy to generate a buy X get Y discount, and I've linked all the necessary tutorials below.
Shopify
You can create a buy X get Y discount code very easily in Shopify, simply follow this guide to generate a discount code that will give your customer an item for free when purchasing a number of items.
Etsy
Unfortunately, it's not currently possible to offer this promotion with our Etsy integration.
WooCommerce
Similar to Shopify, you can create a free coupon code to offer X item for free. Make sure to set up the usage restrictions so that your customers can only use the code with your specific bundle products in their basket.
BigCartel
With BigCartel's flexible discounts, you can offer a fixed amount discount on the total order value when specific items are in the basket. The fixed amount should cover the cheapest item, so if you sell a mug for £12, make a £12 discount that can be used when both a mug and t-shirt are in the basket. Find out how to create this here.
Squarespace
Unfortunately, it's not currently possible to offer this promotion with Squarespace.
---
Our Final Note
Remember to promote the deals you're offering! Use a sales banner, social media posts, and email marketing to maximise your reach.
Offering discounts is a good way to generate sales, but you must make effective use of them in order to get the most from your efforts. Remember that when you offer a discount, you're typically shifting the attention away from your product and towards the price. Keep in mind that if you constantly offer discounts, your brand will always be associated with deals and you might not get many customers purchasing full price. This is why we recommend only running seasonal promotions - that way you're maximising profits throughout the rest of the year too!
If you're being strategic about offering discounts and regularly re-examine your marketing strategy, you'll have a better chance of succeeding in the long run.