How to Create a Successful Online Store by the Envato Team
Today, anybody can drag-and-drop their way into launching an online store with user-friendly, affordable platforms like Shopify and WooCommerce. But here's the thing: launching an online store and building a profitable business are two completely different things.
According to McKinsey, US e-commerce saw 10 years' worth of growth in just three months during the height of the pandemic. That means independent sellers need to work harder to stand out in a crowded marketplace. What's more, they're also competing with legacy retailers like Walmart, Target, and Amazon for the same customers.
To help you get started, I've laid out a roadmap for building a successful e-commerce store. You'll learn how to start from a strong foundation, create a brand that stands out, and how to attract and retain an army of loyal customers.
Step 1: Build a strong foundation
Before launching any type of business, you'll need to nail down a few basic things. Start by asking yourself the following questions:
What are your goals? What do you hope to achieve from this business? A solid side hustle? A source of passive income? Are you monetising an existing blog? Creating a merch store for fans?
Why are you doing this? Are you connected to a particular niche (i.e. a love of fashion, a passion for tennis, or a long career in the food industry) or are you looking to capitalise on the most profitable trends?
What kind of products will you sell? You might not have specific products in mind but you should have a sense of what niche/category you'd like to target. (If you're not sure, Shopify put together a helpful guide for finding profitable product ideas. Read it here)
Answering these questions ASAP will allow you to choose the right products and business model for achieving your goals. If you're trying to turn your art into a business, it makes the most sense to use a print-on-demand service like Inkthreadable to create your products and ship them to customers.
Get to know your audience
Once you've defined the "what" and "why" behind your online store, you'll then want to learn as much as you can about your audience, your competitors, and the challenges, opportunities, and trends that exist within your target niche.
Interview members of your target audience. You can interview them one-on-one or host a focus group. Either way, this is a good opportunity to get answers to specific questions, identify unknown needs/pain points.
Poll users on social media. This tactic works well for asking people to choose between different design options or products, as well as asking customers specific questions about what they'd like to see in your store.
Participate in online communities. Join subreddits, Facebook Groups, etc. related to your niche—look for recurring themes, trends, and pay close attention to the conversations taking place.
Step 2: Define your brand's purpose, voice, & values
Step two sets the stage for everything that comes next. That includes your website design, marketing plan, content strategy, and so much more.
Key things to accomplish:
Nail down your unique value prop. What do you do differently from everyone else? In the case of print-on-demand, your value prop might have more to do with the selection process—i.e. you only feature products from sustainable brands.
Decide what your brand voice will be. You'll want to figure out what kind of personality your brand will have—warm, but professional? Irreverent and straight-to-the-point? What are your core values? What niche are you targeting? These factors can help shape your personality though you'll want to avoid copying brands with similar values/product offerings.
This "brand voice chart" from CoSchedule does a nice job explaining how each "brand characteristic" influences communications.

Define the look and feel of your brand. This includes what colours and fonts you plan on using, photography style & filters, and graphics. The look of your brand should complement your voice/­personality, and portray your brand values.
Develop a customer service philosophy. Your service philosophy should also reflect your voice, values, and brand identity. Spend some time considering how those values and characteristics might come through in various customer interactions.
For example, Zendesk values "making a difference" in the communities where employees live and work. Their program, "Tech for Good" offers customer support to nonprofits so those organisations can maximise their impact on the communities they serve.
From there, you'll want to work these different elements into a compelling narrative about your brand. That story will be the common thread across all channels, content, and communications, including:
Web copy
About us page
Social profiles
Blog posts
Social media content
Ad strategy
Service policies etc.
Ultimately, this stage is all about defining who you are, what you bring to the table, and how you'll communicate before you start writing web copy or launching PPC campaigns.
Step 3. Web Design
At this stage, you'll want to incorporate your branding decisions into your website design. If you're using a website builder like Shopify or WooCommerce, you can select a pre-made store template and customise it to align with your brand identity.
You can easily save settings for the following:
Color scheme
Fonts
Text sizes
Page layouts
Product listings
Social icons
Here's a look at how four different stores have adapted the same Shopify theme to match their brand identity.

Now, these examples are all pretty similar. I'd recommend incorporating original assets when possible to create a more memorable visual experience.
Sites like Canva can help small businesses create custom designs, from logos and social media visuals to layouts, while 99designs allows you to hire professional designers for a fraction of the cost of working with a traditional service provider.
Show customers exactly what they'll get
One of the biggest problems with online shopping is that customers can't experience products in-person before making a decision.
93% of customers feel that images are critical to the digital shopping experience and 94% say reviews and ratings have the biggest influence on online purchasing decisions.
With that in mind, be sure to include the following:
Product-only shots. Product-only images showcase the featured item against a clean, white background. You'll typically want to include several of these shots to showcase your item from different angles.
Products in context. You'll also want to include images that put your products in context. This will help shoppers connect to your products on an emotional level and understand how someone might use this item in the real world.
Product mockups are a great way to do this. There are t-shirt mockup generators, book mockup generators, and many other tools that can help you create quality mockups with ease.
Use video to show products in action. Video takes things a step further, allowing retailers to communicate a product's value within seconds. For example, Ratio uses a short video on its homepage to demonstrate how its coffee machines work. Visitors immediately get a sense of what this item does without reading a bunch of text.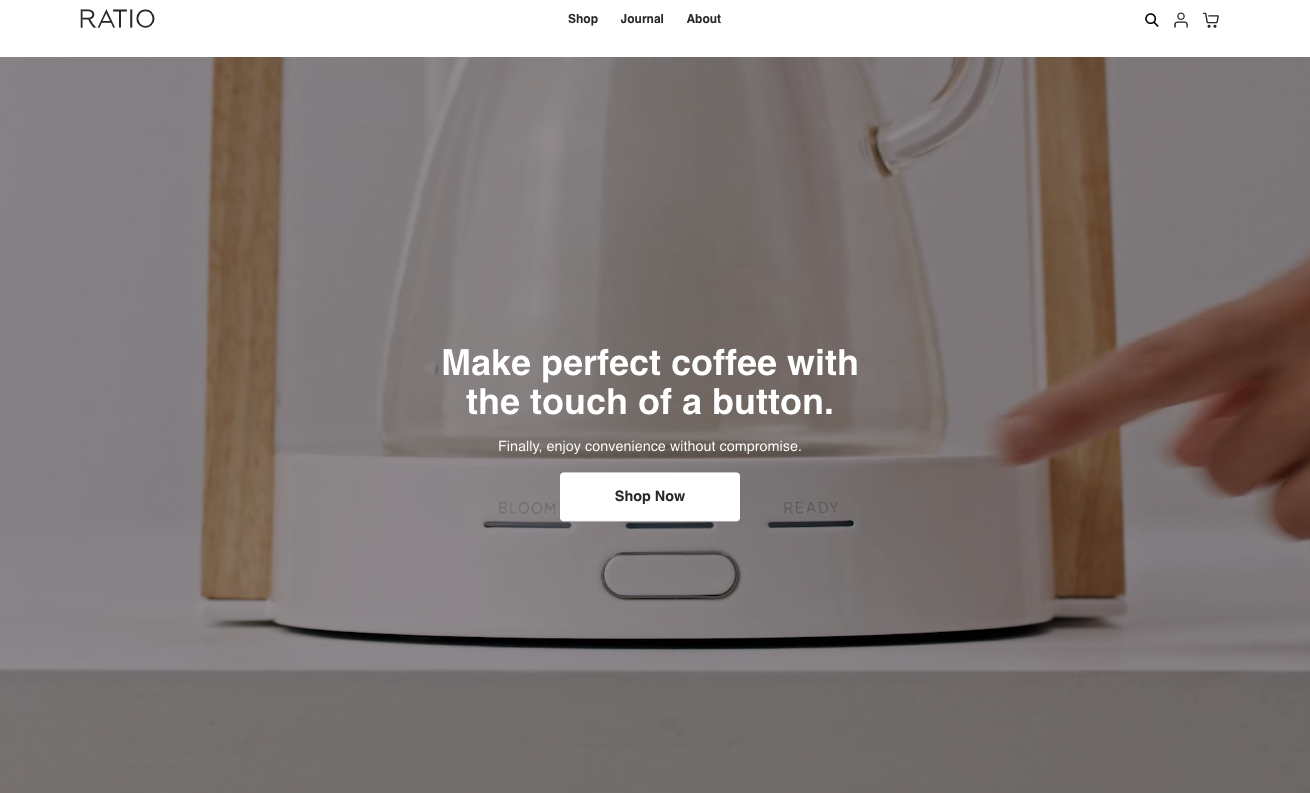 If you're using a print-on-demand service or selling products with multiple variations, you might want to use a tool like Placeit. This platform allows you to generate product images and visual assets you can use to showcase various designs, colour schemes, and customisations without creating extra work.
For example, if you're a photographer, you might have hundreds of photos for sale in your store. To save yourself some time, you can use this mockup to show how each of those photos might look in someone's living room.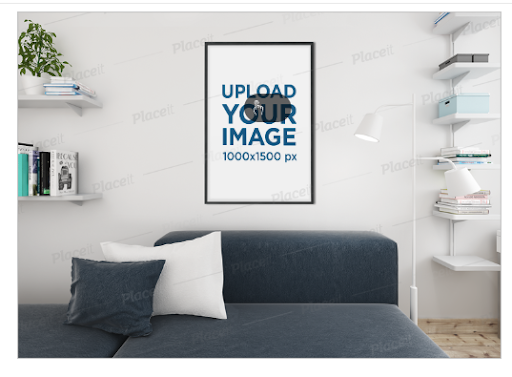 Reviews. Finally, you'll want to incorporate user reviews into your product pages. Bliss' product pages include an average rating at the top of the page, along with product shots, a video, and details about the ingredients they use. Shoppers can also skip to the review section to find out more about what others thought about this product

Source
Step 4. E-commerce SEO
SEO is one of the best long term strategies for generating inbound traffic to your e-commerce store. According to one report, search results account for around 35% of total traffic to online stores and 33% of revenue.
But whether your store gets the clicks and conversions you need to be profitable depends on where you fall in the rankings; after all, few consumers ever venture beyond the first page of Google.
While SEO is a complex, ever-evolving subject, here's a basic overview of what your strategy should focus on.
Get the technical stuff in order
According to Backlinko, technical SEO is vital for all websites but it's even more important for e-commerce brands. The reason for this is, e-commerce sites tend to have more pages than other types of sites and as a result, there's a higher likelihood there's an issue somewhere on your site.
Once you've got your pages set up, you'll want to do the following to ensure a seamless shopping experience:
Secure your site. Today's customers are tuned into the risks of buying from an unsecured site. If there's no SSL certificate at checkout, a lack of information about payment processing or data storage, or you've recently been hit by a cyberattack, there's a good chance they'll take their business elsewhere.
Prioritise mobile optimisation. It doesn't matter if you're Walmart or a one-person operation, either way, your customers expect fast load times on any device. According to Salesforce, mobile commerce accounted for 92% of e-commerce growth--and that was before the COVID outbreak. Today, over half of all global e-commerce transactions happen on mobile devices, and 53% of shoppers say they'll leave sites that take more than three seconds to load on mobile.
Make sure your site is responsive. Responsive design themes play a key role in helping improve your site's SEO rankings, page load times, and ensure an all-around positive user experience. They identify the type of device used and automatically configure the page to match that device's display settings.
There's more to it than that, of course. I'd recommend checking out the Backlinko post I mentioned above for a deep dive.
Prioritise clear navigation
Navigation isn't the place to experiment with out-of-the-box ideas. The main goal is to guide users through the purchasing process, with as little friction as possible.
Categories should follow a logical hierarchy, and follow straightforward naming conventions. As an example, if you're selling clothing, you'll probably want to use something like this: men's, women's, accessories, new, and sale.
Here's Everlane's navigation structure, they do a nice job.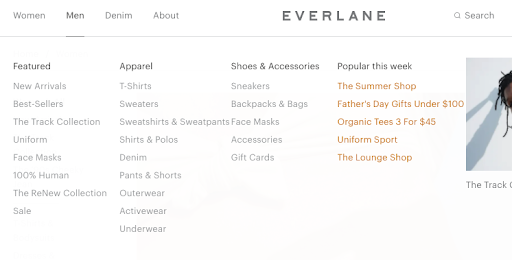 Additionally, you may want to consider adding rotating categories to highlight seasonal items or support sustainable brands, Black- or women-owned businesses, etc.
Example from Garmentory: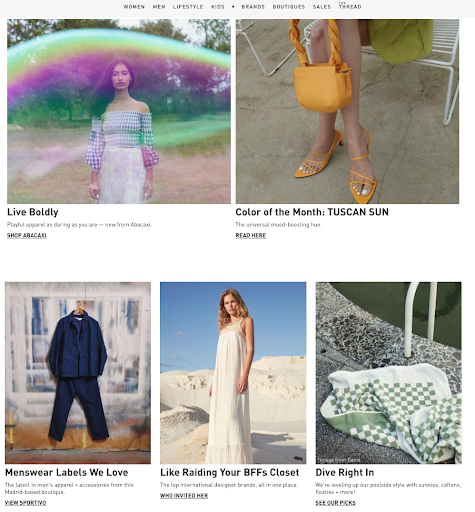 Finally, you'll want to add filters that make it easy for customers to narrow their search. Think size, price, fabric, colour, on sale, and so on.
Keywords
Shopify recommends looking for high volume, low competition keywords that demonstrate relevancy and high commercial intent.
You can use Google Keyword Planner or a paid SEO tool to identify relevant keywords--Ahrefs, Moz, SEMRush all allow you to perform keyword research in a matter of minutes. I personally like SEMRush because it offers several tools that help writers create high-ranking posts, but I'd recommend trying them all before making a decision.
Amazon is another good place for finding keyword opportunities. Unlike Google Keyword Planner, Amazon is product-focused—people go there to shop, they're not looking for how-to guides or local business information.
To use it for keyword research, simply enter one of your target keywords into the search bar to get related suggestions. For instance, if I enter "sleeping bag," the following variations appear, which can then be used to inform category and product pages.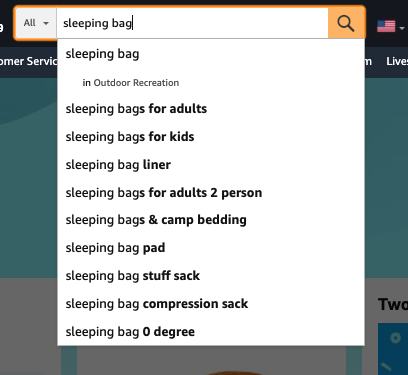 For more quick SEO and keyword research tips, check out our recent post on Father's Day gifts.
Product pages
Great product descriptions go beyond keywords and specs. They should address the customer's problem or goal, offer a solution, and showcase benefits/­features in context.
Be sure to:
Focus on your target customer
Provide a list of key charac­te­ristics: material, colour, size, etc.
Explain when/why someone might use this product
Entice shoppers with "sensory words"

Ideally, product pages should aim for 1000+ words of content and use target keywords 3-5 times throughout the copy, as well as in the following places:
Product name
URL
Meta tag
Meta description
Image description
Additionally, you might incorporate customer reviews and FAQs to help shoppers learn more about products.
Apply structured markup
In addition to optimising product pages with the right keywords, online sellers should add structured markup, or schema, to the backend of their product pages to make it easier for Google crawlers to index them properly and highlight key attributes of their business.
Because this makes it easier for search engines to understand the content and intent of a particular page, Google is more likely to show your products to the right people when they enter the right search terms (Google lays out the full set of guidelines here).
Step 5: Build out your social strategy
While SEO is super important, it does take a while to generate organic traffic without a little help from other channels.
According to Sprout Social, customers are starting to see brands as "relationship builders", rather than a source of goods or services. As such, your social media strategy should focus primarily on building and nurturing connections with the right people instead of trying to convert the masses with basic "buy now" messaging.
Part of that strategy is about fostering connections around a shared set of values. According to Iterable, brands should aim to prioritise diversity, equity, and inclusion in their marketing messages.
Consider how your brand voice and communications change based on channel and context. While your core values and personality should stay consistent, the content and format (i.e. live stream, video tutorial, infographic, etc.) should align with the expectations users have for each platform.
Here are a few examples of how e-commerce brands use social media to attract and engage audiences.
Engage with video
Chipotle's TikTok is a great example of a brand that understands how to use the medium. I know, they're not e-commerce, but their posts are genuinely funny and you can tell they were made by a real human being.

While it might be hard to match Chipotle's engagement numbers, TikTok's algorithm gives everyone the same opportunity to go viral, presenting a major opportunity for small brands to breakthrough.
Another idea is using video to show products in action in a more intimate setting than your average product page.
Here's Bliss again. They've shared a short demo via Instagram Reels explaining how to put together a morning routine for sensitive skin.
While they do feature their products, it still contains valuable information for anyone with that issue, whether they're a customer or not.

SourcecSlide into the DMs on Instagram and Facebook Messenger
Here's an example of how Kendall and Kylie used Instagram Messenger to promote their eyewear collection. The brand announced a giveaway in the main feed, instructing customers to enter to win via direct message.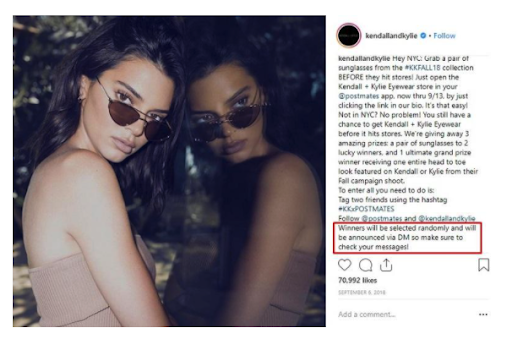 Source
Embrace UGC
User-generated content (UGC) describes any content created by your audience, including reviews, images, and videos.
According to Nielsen, 92% of consumers trust recommendations from strangers more than branded content. What's more, UGC is seen as nearly 10x as influential as content generated by big-name influencers.
UGC allows you to capitalise on this built-in trust, while also allowing you to keep your feeds updated with fresh content. In some cases, brands enlist the aid of an influencer or brand ambassador to promote UGC campaigns, demonstrating how to participate, what hashtags to use, etc.
The benefit here is two-fold. It drives participation, but it also gives "average joe" participants a template for creating content that matches your brand's aesthetic and quality standards.
Make social commerce a priority
Social commerce bridges the gap between organic content and advertising. It allows retailers to increase awareness and drive sales in one fell swoop.
The key advantage of social shopping is, it allows brands to shorten the path to purchase, thus limiting the number of opportunities a shopper has to fall out of the funnel before placing an order.
Here's how Crate & Barrel incorporated social shopping features into a recent campaign. Users can tap the screen to reveal shoppable items or opt to scroll through the brand's Instagram shop: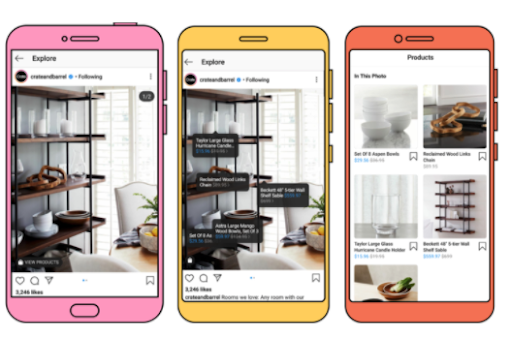 Glossier used a different approach to promote its site-wide sale via Instagram Stories. The featured screen combines urgency (last chance!) with UGC: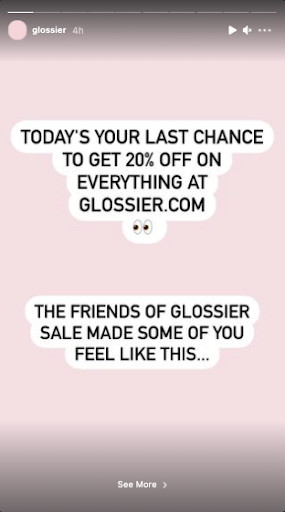 Hit "play" and you'll see several reactions from real customers.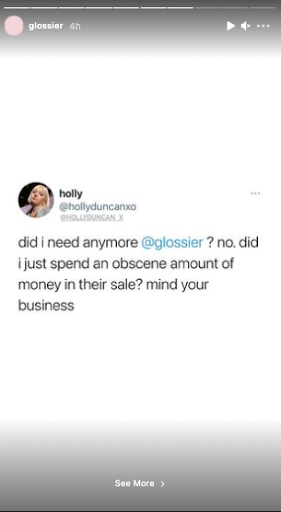 It's a nice way to feature customer comments, get a few laughs, and ultimately, convince like-minded shoppers to see what all the buzz is about.
Step 6: Amplify with advertising
According to Shopify, digital advertising is becoming more expensive for online retailers. Tiny shops now compete with giants like Walmart and established DTC brands (think Glossier, Everlane, Warby Parker).
Google Shopping is particularly competitive, especially if you're bidding on generic terms. For example, if I type in "women's running shoes," Google serves up several options from Allbirds, Nike, and Adidas. If I want to rank here, I'll probably blow my entire ad budget because Nike and Adidas are driving up the price.
Instead, I can save some cash by bidding on much more niche terms. If I'm Allbirds, that might mean bidding on "sustainable women's running shoes". Or, by bidding on branded terms.
So, if I type in "Allbirds running shoes," here's what comes up: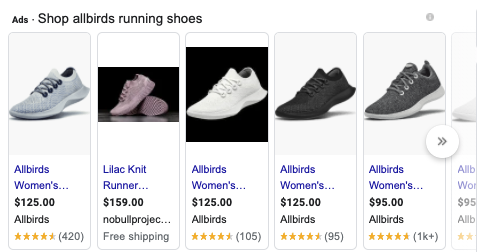 Branded keywords are often less competitive than unbranded ones but people can only search for brands they already know.
Allbirds saves money and reaches more qualified customers than it would by competing with legacy brands like Adidas and Nike. But, the company is only able to do this because they've built awareness through other channels like podcasts, social media, etc.
Other platforms such as YouTube, Pinterest, Facebook, Instagram, and Twitter are better for boosting brand awareness and engaging audiences.
For example, Epic Games uses these platforms to promote free games. The brand boosts their posts to expand their reach, but the focus is on getting people to try their products and engage in the comment section.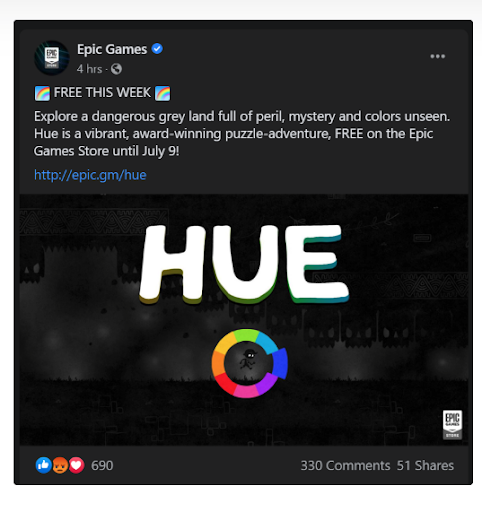 Or, you might try something similar to Michael Kors; use a promoted Facebook post to promote AR-powered virtual try-on.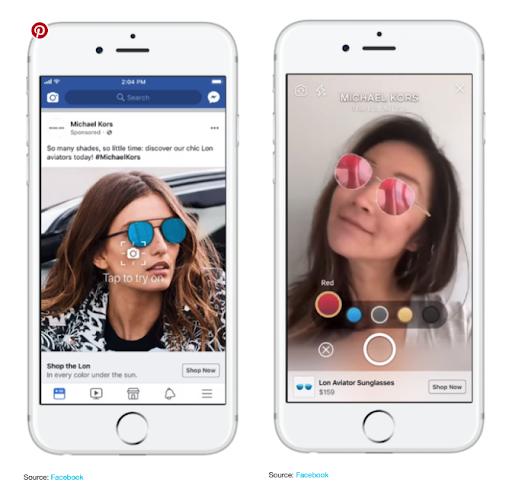 This type of campaign works best if you're targeting existing customers or people who abandoned a shopping cart. Users can purchase the product from Facebook if they like what they see.
Step 7: Team up with influencers
Finally, if you want to make your store stand out against a sea of competitors, you'll want to team up with external partners who can help you reach even more potential customers.
If you're a fashion brand, you might ask an influencer to create something like this capsule wardrobe, featuring items from your collection: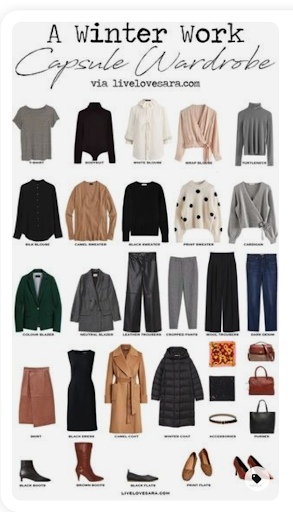 If you're just getting started, you might focus on highlighting creators/­influencers in your space or starting conversations.
I stumbled upon Voort Studio in my Instagram feed, their website has yet to go live and they won't be dropping products until September but they're already building a following and engaging creators by sharing their work.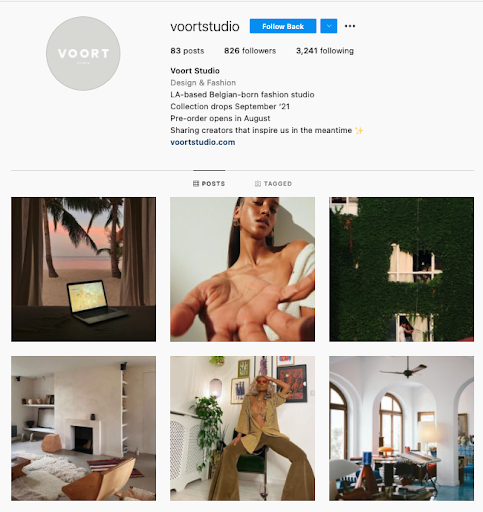 While this approach might not yield returns for quite some time, it helps plant the seed for future partnerships and increases the likelihood of earning organic mentions that can boost the brand early on.
Final thoughts
There are so many opportunities and low entry barriers for starting an e-commerce store but the trade off is this, you're entering a crowded, competitive business landscape. Prospective shop owners need to look beyond the initial launch stage and develop a strategy that covers everything from branding to content, keywords, and social media.