Say Goodbye to Plastic Packaging with Inkthreadable's 100% Plastic-Free Shipping Solutions!

We've been shipping with plastic-free packaging since 2019, sending off 99% of our orders all wrapped up an in eco-friendly fashion.
But there was always that tiny, stubborn 1% of our orders, those delicate divas with their fragile glass, who insisted on using bubble wrap. They just wouldn't trust paper or cardboard with their precious selves... until now! 📦💚
The latest superstar to join our eco-friendly packaging band is this funky, hexagonal cardboard sleeve, ready to envelop and protect the glass in your framed art prints like a warm, sustainable hug.
Say hello to safe travels for your wall art and a big thumbs up to Mother Earth!
Want to know more? Dive into our blog to uncover the green secrets behind how your orders are packed when you choose Inkthreadable.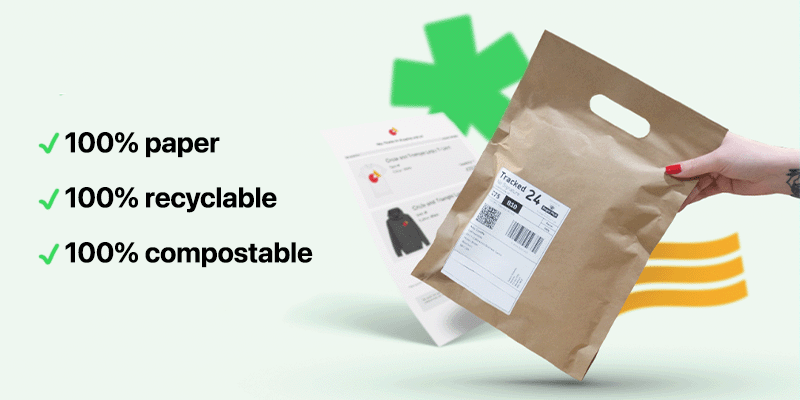 Protecting your fresh tees with paper packaging since 2019.
When it comes to small orders of garments, they're all tucked into our weatherproof paper postal bags, ensuring they stay neat and dry till they reach your customers doorstep.
These bags are an eco-warrior's dream - 100% recyclable and home-compostable! That's right, mix 'em with your kitchen scraps and they'll be back to nature in just 12 months.
For those larger orders that don't fit into our paper postal bags, we've got a plan B! They're packed up in a sturdy cardboard box, ready for their journey.
All of our bags and boxes are the triple threat of plastic-free packaging - made from 100% FSC-certified paper, entirely compostable, and fully recyclable.
Top tip: Don't throw our packaging away in your general waste bin; landfills are no place for recyclable materials!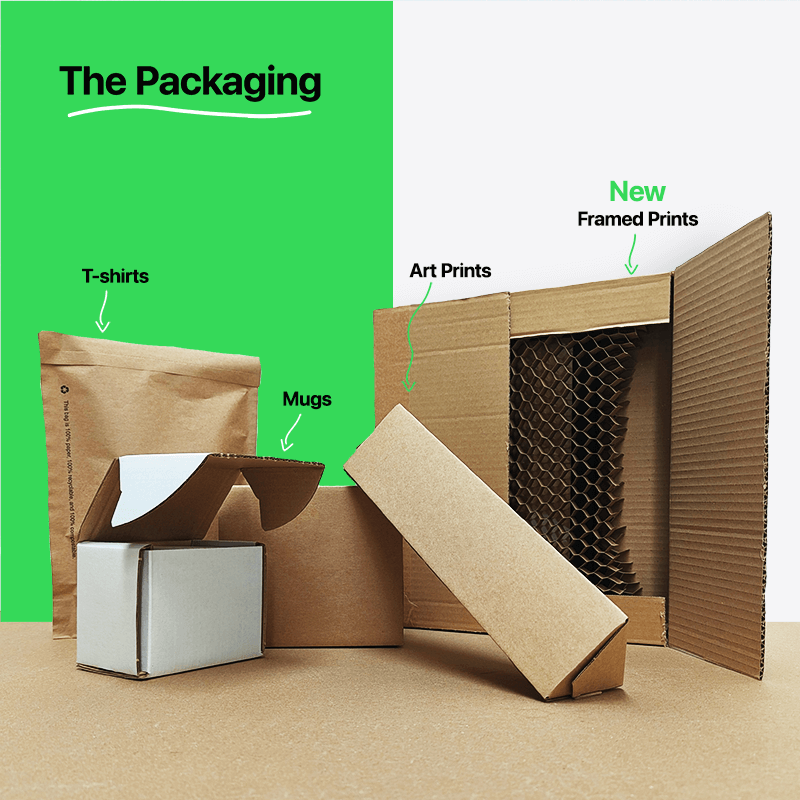 We know they can be as fragile as a feather when they're being tossed around at the Royal Mail depot. But don't worry, we've got them covered (literally) with our extra-care packaging and sturdy boxes.
Single mugs? They get their very own bespoke, smashproof cardboard boxes to travel in. Ordering more than one mug? They'll be nestled together in a larger version of the box.
Got a mixed order with a mug and a garment? No problemo! The mug gets an inside seat in the box, and then the whole lot is secured in a weatherproof paper postal bag.
This way, everything stays safe and snug until your order arrives at it's destination.
Attention art lovers! 🎨
Our unframed prints are rolled into a triangular cardboard tube. That nifty triangle shape helps them withstand the hustle and bustle of the postal system without a scratch, or plastic end caps.
And here's the BIG news: 📣 Our framed art prints have finally gone 100% plastic-free!
Framing art involves glass, and we all know how fragile that can be. To keep them safe, we used to wrap them in biodegradable bubble wrap. But let's face it, that wasn't the eco-friendly superhero we wanted it to be.
And then, one of our fabulous customers dropped a golden nugget of wisdom - they led us to a supplier who makes cardboard packaging designed especially for delicate items. And boy, was it a perfect match!
After doing some rigorous testing, we're now ready to roll out this new packaging for all framed art print orders.
So, what's the secret green sauce?
Our team first places the print into the frame. Then, the frame is slid into a tailor-made protective sleeve made from hexagonal-shaped cardboard - the latest innovation in eco-packaging!
Finally, everything is slipped into a sturdy cardboard box. Et voila! Your artwork is ready for its safe and sustainable journey. 🖼️📦💚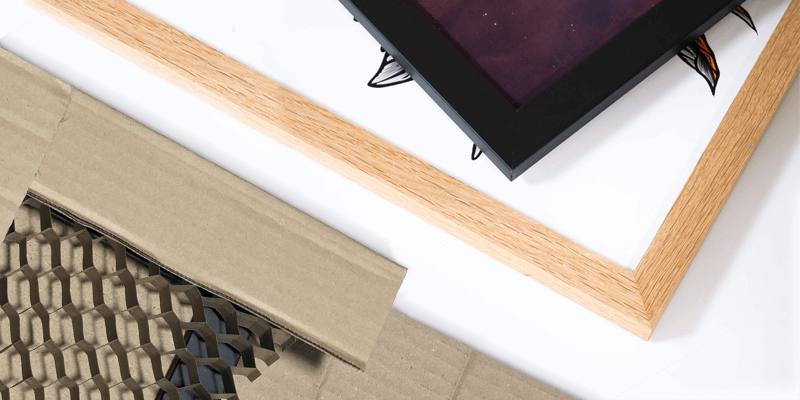 From smashproof to sustainable...
We've put our new packaging through the wringer. Think of it as a boot camp for boxes - we've tossed, dropped, and jiggled them to make sure they're as sturdy as can be.
We've done everything short of a wrestling match to ensure your precious orders get to you in one piece, no matter what the postal service throws at them.
But hey, if you ever encounter an issue, don't sweat it! Give us a shout, send in a photo and we'll be on it. We're here to make sure every unboxing experience is a joy, not a jeopardy.
And there you have it! From your favourite tees to your treasured mugs and art prints, we've waved goodbye to plastic and said a big hello to 100% plastic-free packaging.
Next time you get an order from us, just imagine it's whispering, "Hey, don't forget about me...I've got a sequel in the recycling bin!" Every bit of packaging has more tales to tell, and you keep the story going by recycling.
In the meantime, we'll be here, continually finding new ways to make your orders even greener. Because at Inkthreadable, we believe the best way to predict the future is to create it.
Stay tuned for more exciting updates, keep being awesome, and remember - the planet thanks you for choosing Inkthreadable! 🌍💚
👉 Register to our website for 50% off your first sample order*.
*Discount code can be applied to a single order with a maximum value of £50.
Save time & money with print-on-demand
Last year alone, Inkthreadable helped over 10,000 businesses fulfil more than 225,000 orders.
Get Started Now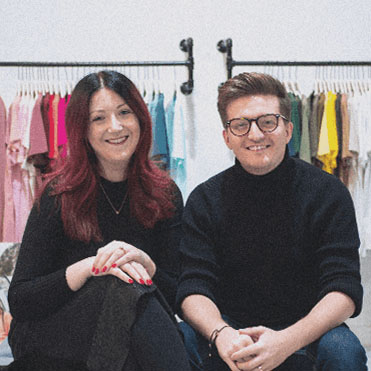 MEET INKTHREADABLE
We're a family-run business, but we pack a lot of punch! Our team is made up of expert printers, graphic designers and the most friendly customer support team you'll ever meet (we are from Lancashire, after all). Founded in 2013 by co-founders Alex & Amy, Inkthreadable has been built from the ground up. We've already fulfilled over 1.4 million orders, and we're ready to fulfil yours too!