Starting Your Small Business Series - Part 5
How to use drop shipping to start a small business for under £150
Starting a new business is actually easier than you'd think. We're at risk of over simplifying things here, but at a very basic level here are the things you'll need to do to get started:
Create or source your product designs.
Creating or sourcing your product designs
Crearte would be using Inkthreadable as a drop shipper – things like embroidered snap backs, printed t-shirts and even products like tote bags, cushions and mugs are all be more than do-able. So our supplier is set, we just need some designs.
There are two ways to source your designs: you create them yourself, or you pay someone else for theirs. Working to a budget, the first option is ideal since it will cost you nothing but time.
Designing t-shirts yourself
Even learning from scratch, you can pick up the basics of using Adobe Photoshop and Illustrator in an evening or two, and then spend a few weeks honing your skills.
Adobe has professional tutorials for both Photoshop and Illustrator designed to develop your skils from novice to expert, but there's plenty of help elsewhere too. There are thousands of websites dedicated to creating tutorials and how-to guides that will help teach you the basic and advanced techniques you'll need to know, for example the DigitalArts site has a tutorial section that can teach things like how to remove backgrounds from photos and how to create realistic 3D images. Before you know it you'll be piecing together designs for your products without paying anyone else a penny. It's not easy, but it's far more rewarding when your products sell if you've created them yourself.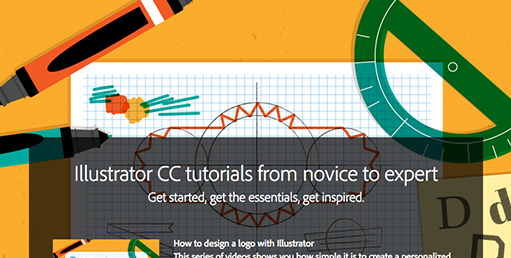 Image taken from Adobe Illustrator Tutorials
There is a cost to this option though since Adobe products aren't free. Luckily you can pay monthly, and only for the programs you actually want to use, so this cost doesn't need to get too excessive. Depending on your brand and the look you're going for you can use either Adobe Photoshop or Adobe Illustrator, or even both, to create your designs. We won't be doing any of the designing for ourselves at Crearte, but we'll likely need these programs to create graphics like banners and product mocks for our site. This type of work rarely requires Adobe Illustrator, but just in case we'd go for paying monthly for both Illustrator and Photoshop at a cost of £26 per month, though you can get access to every Adobe Program for £45 per month.
Paying a designer
Buying your designs is the second option, and depending on the route you go down for this it can be a little pricey. Ideally you want designs that you own the intellectual property rights for – so designs that you have commissioned yourself, with all rights to its use transferred you on payment. Though this can be expensive.
Sites like Designcrowd are great for this kind of t-shirt design sourcing. Here you can post t-shirt design requests with a brief of what you're looking for and a budget to work to. This means you can commission thousands of designers for a fee that you're happy to pay. The problem with this model is that low budgets will only attract the designers who can't compete for the larger budgets, and if you're starting out you'll want your budget as low as possible.
Then there are sites like GraphicRiver offer much cheaper alternatives, though these also come with different drawbacks. These designs come with licenses detailing how you are allowed to use them, and whilst most allow for products to be created for resale, others do not. They're also available for anyone who wants to pay, meaning you could end up selling t-shirts offered by hundreds of other brands.
A combination of these two sites gives you something like Fiverr. Here you can comission artists, designers - even writers or animators to create things for you for just five dollars. You can get your designs created, or content written for your site pages - or even products mocked up or advertisments created for your site or social media. Our advice with Fiverr is to stick with artists with fantastic reviews, and watch out for those that add extra cost onto the $5 price for extra services.
For Crearte we'd be listing work from other designers in a marketplace, so our products will be created for us. However we'll be using Adobe software to create any graphics and product mocks needed for either our site or social media, so we'll need to pay a monthly fee. Though to aid us with creating these designs without much difficulty we'd budget about £25 for graphic packs from a site like Creative Market. These graphics will help us creative truly unique product mocks and banner advertisments without needing to create everything from scratch ourselves. Including the cost from previous topics our total cost is now £76.