What we offer
There are printing companies, and then there's Inkthre­adable… and we do things a little differently. After hand selecting the fluffiest kittens to lick your designs into life, your products are hand delivered by a barbershop quartet on horseback singing the Star Wars theme song.
Well, maybe not. But you'll feel like they were. That's because we never stop refining our printing techniques, quality control and customer service to give you the user experience that meets our high standards. Unlike other printers, we're not here to take the profit out of selling your work: we're here to put it back in. We're here to make it worthwhile and exciting, the way selling your own products should be. Yay!
Our experience tells us people like to sell their own products in their own way.
Inkthre­adable have developed three services for you to do just that, and best of all they're simple and hassle free.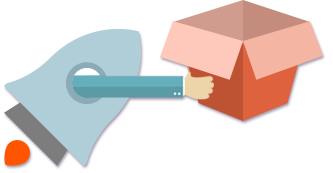 Drop Shipping
Your website takes an order. You pass it on to us for
fulfilment. You put your feet up with a cup of Earl Grey
and a packet of Hobnobs. That's drop shipping.
We've built our drop shipping service to give you exactly what you're after – amazing quality, unbeatable prices and a customer support team ready to shoot the trouble out of your problems at the drop of a hat. Yee haw!
With drop shipping you don't spend money on stock, and don't get stuck with stock you can't sell. Sounds perfect for any aspiring fashion brand or designer, right?
Every product we offer can be drop shipped, no matter how it's created; whether it's a sublimated mug or a DTG tee it's all the same to us.
Making your customers happy makes you smile. And we do love to see you smile. So we move mountains to make your customers happy. It's almost like the circle of life.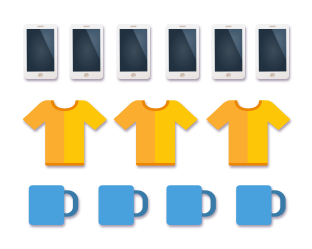 Bulk Ordering
Got some products in high demand?
It's OK, weary shopkeeper, we're here to help.
Bulk ordering your products can save over 50% on the production cost if you were to order the same quantity through drop shipping. Its perfect for those product lines you know you can sell - so go for it, we believe in you.
You can bulk order anything. A-ne-thing you want. Eighty DTG hoodies? Done. Four hundred screen-printed tees? No problem. Twelve thousand, six hundred and twenty three Space Cowboy mugs? Of course… wait… what?
Once printed, we'll ship your bulk order to you so you can fulfil your own orders with these products whenever you need, removing us from the order fulfilment process. Slowly your business will develop into a fashion brand worth billions and billions. Well, maybe not billions, but there's no harm in having a dream!